I have told you about my discovery of the air fryer several years after everyone else knew it was incredible. But we have not talked about Air Fryer French Fries or really any french fries other than Tripping Vittles traveling in search of the best french fry in Ohio.
French fries may be the perfect food. Delicious, not the worst thing for you, and they go with just about anything. You can make Hot Dish with them. We will talk hot dishes another day; that is a huge can of worms! Serve them with anything made from a cow. Burgers, steak, tips, prime rib… you get the idea, right? French Fries are the perfect food.
Below are the four versions of fries I made with the air fryer. They are all done with the same basic recipe. Just swap out one ingredient for the other. I made French Fries, Steak Fries, Sweet Potato Fries, and Pear Fries. Yep, you heard that right, Pear Fries!
Making Amazing Air Fryer French Fries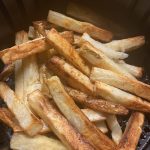 French Fries:
I use a French Fry Cutter and russet potatoes. I like the 1/2 inch blade, but you can also do 1/3 inch with the cutter in the link.
Steak Fries:
I peel the potatoes and then use a 6″ chef's knife to cut steak fries. You know the ones they serve at steak houses. My first job was at a York Steak house, and I get cravings for steak fries. So I just figured out I can satisfy those cravings with an Air Fryer.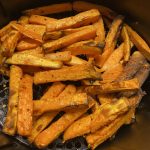 Sweet Potato Fries:
Use the French Fry cutter from above or cut into steak fries and Wham Bam. You got sweet Potato fries. Be sure you peel those sweet potatoes first or Gross!
Pear Fries:
I know sounds weird, but trust me, they are awesome. These came about when I was eating from the food pantry, and they gave me enough pears to feed an army. I'm not too fond of pears. I mean, I like them but not just to eat like an apple. I need them cooked with other delicious things. I'm sure there is a pear out there I would like to eat, but I have not met it yet! Serve with a scoop of vanilla ice cream and some Carmel sauce, or toss with Pies N Stuff Sugar and eat just like a regular french fry.
Directions
Making all the above fries are so easy. They all will go in the air fryer at the same temperature. 400 Degrees. You set all of them for 15 min. At 15 minutes, you stop and toss the fries. Now at the same 400 degrees, you check and toss every 5-7 min. Until they are the doneness you like. I like my steak fries a little soft, and my sweet potato fries well done, so I go longer on the sweet potatoes.
You can find many of the items I use when I travel, cook and have fun on my page at Amazon. You may also find helpful tips and videos. Click the link above and check it out!