Day Tripping: The escape from reality for one day.
This is going to be an ongoing series for Tripping Vittles. I am super excited that I have worked to a place to make Tripping Vittles a full-time job. As a result, you will see some changes in the future. I will be posting on Mondays, Wednesdays, and Fridays. In addition, you will see some ongoing serialization. This is the introduction to Day Tripping, The first of those series.
This is my idea of Day Tripping.
When you go Day Tripping, you should almost always do it during your workweek. You will have a specific destination in mind when you leave the house. It should include an activity and food or treat, or if doing it right both! Also, you should purchase a trinket or souvenir. The wackier, the better!
My Rules
Feel free to adopt my rules—no chain restaurants. There are exceptions. Stopping at McDonald's can be acceptable for a french fry snack or an early sausage cheese McGriddle for the road. That is within the rules of day-tripping, but that's it.
The other rule, you must have at least one cocktail. Day Drinking is part of the fun of a workweek escape.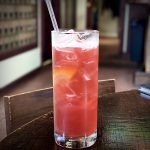 Insider Tip: Do not discount how a great cocktail can be made from a bar during the day. The owner or head bartender is often working midweek to set schedules and do the ordering. In many instances, you will have the professional bartender or owner making the drink they created instead of the 20 something kid trying to get the hostess to notice him making the drinks.
More rules but they are all in fun
Ooops, you thought the rules were over?? Nope, not yet… The activity you choose should highlight something local. As I advocate for day tripping, I often make sure to spread outdoor activity evenly with inside action. Also, don't discount a day if it is raining. Please use your noggin though and don't stand under a tree in a lightning storm. Hiking is fantastic in the rain, and there are always fun things to do inside. As stated above, the wackier, the better!
By the way. Local can be where you are. If you love to travel, make a home base and day trip out of one place for a few days. We did this in Hawaii, and we could see a large amount of the Big Island in one visit. If you visit family, make it a point to at least make one day trip by yourself or with one family member you really want to connect with.
For example, Kings Island is sweet, and yeah, you can argue it's local, kind of, and of course, it's a fun day, but that is not what I am talking about when I talk day-tripping. I mean, head towards Cincinnati, hit up Jungle Jims, buy everything you need for a fabulous lunch. Find somewhere along the river to hike, walk the art district(every town has one) check out a local watering hole. Bring home donuts from a nearby bakery.
It is also a great time to chat with people. Get a discount or learn a recipe. Find out a fun fact or maybe somewhere else to see and explore. Part of Day Tripping is getting to know people and places so that you can go back. There is nothing wrong with going back to the same place on a day trip.
Who do you day trip with?
I encourage you to do this alone. Try a day by yourself adventuring. The weight a day of day-tripping will lift off your shoulders will be measurable.
I also will tell you it can be fun for a girl's day. It can be romantic for a couple. Kids need an escape. Please take one of your kids with you, making it an escape for them too. And some one-on-one time for you, It will amaze you how you can connect to a child(especially a teenager) by being away from siblings and the other parent.
Now that we have established the Day Tripping Rules. Keep your eyes open for the regular series from Tripping Vittles. Day-Tripping. Be sure to share in the comments any day trips you would like to see me do or tell me your favorite spot for a day trip!