I think it is clear now that I love Ice Cream! The good the bad( is there really bad ice cream?) all ice cream.
I have said over and over I am not a review site. but I keep getting asked my favorite this or that and where do we find good this and that? So I have decided I will write short little reviews of the stuff I love or not love. You will not find the brutal takedowns of places like the NYtimes does of restaurants.
At One Time I Did Write Reviews
Many years ago I used to write funny reviews for friends. It is how I started writing and it eventually morphed into Tripping Vittles.
The following was my rating scale.
0-This sucks
1-oh yeah it is good
2-oh yeah baby that is really good
3-oh man that was frikin great
4-holy crap ya can't beat that

I probably will not tell you about a place that sucks. or maybe I will but that is a line I will cross when I get to it. I know how hard people in this business work and I know sometimes even the very best places have shitty nights.
Grandpa Knew Best
I love Ice Cream. If you follow me on Instagram and you should, you will know I have traveled searching for ice cream. I will go far and wide. It is the perfect sweet treat dessert and all–around meal if you get the right combo.
"There is always room for ice cream it fits between the cracks"

Grandpa Sloat
Today I am sharing with you the Ice Cream you must get if you are in Port Clinton Ohio.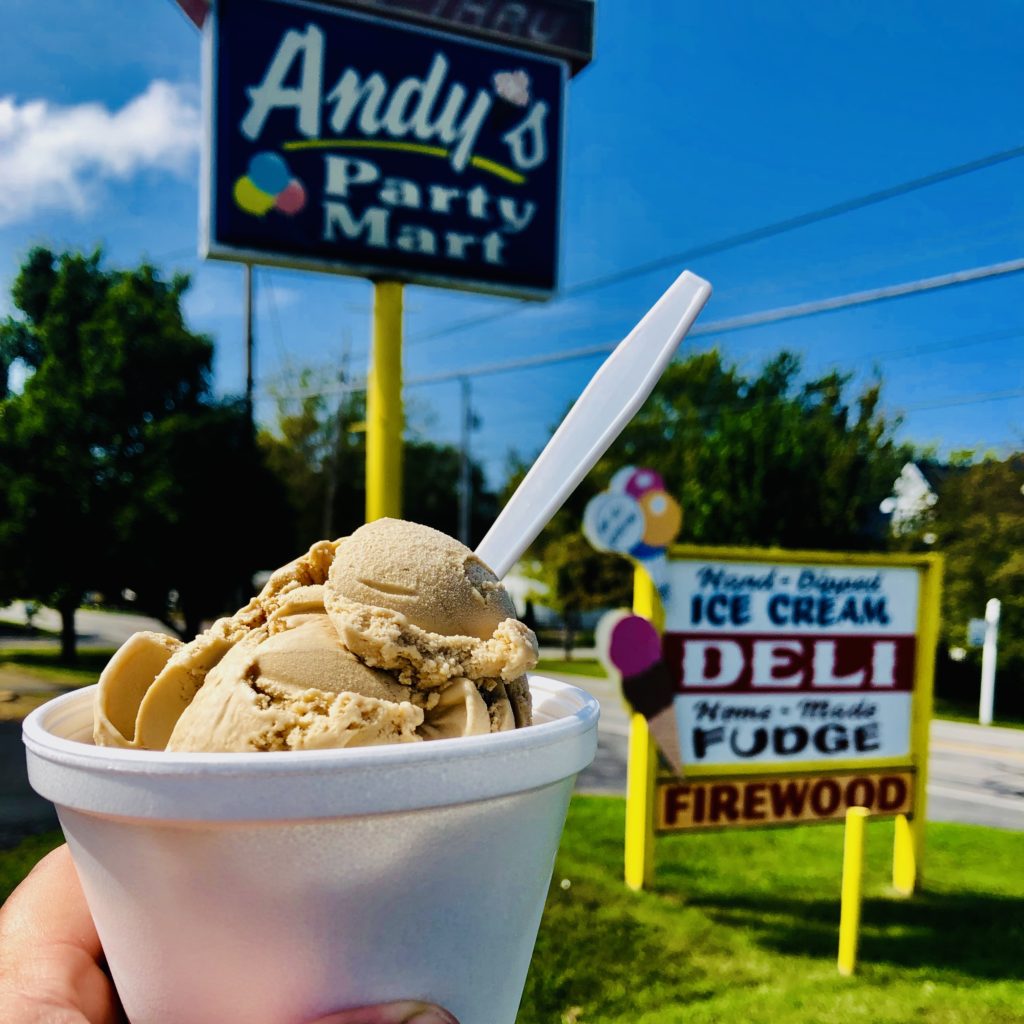 There is a little place called Andy's Party Mart, In Port Clinton Ohio. If you are up on Lake Erie make this place a stop. It is a drive thru/deli/icecream shop. I cannot address the drive tru or deli but the ice cream is awesome!
Flavors and Rating
The flavor I got was Brown Butter Bourbon.
It's a 3-Oh Man that was Frikin Great! Tripping Vittles has been told by a reliable source that the Strawberry Cheesecake and Caveman Chocolate are darn good too!
I Love Ice Cream
I love it, will always love it! Do I have a favorite flavor? Nope, not really. I love almost all brands. I even like to make my own Ice Cream. If you enjoy making your own ice cream the Ben & Jerrys book on Ice cream is the best I have ever used. Easy to make and fun!