Hot Dogs you either love them or hate them. If you grew up in certain areas you had very distinct rules and feelings on them.
I grew up in Minnesota we were just as likely to cut a hot dog up and throw it in a hot dish as we were to put it on a bun and eat it.  The rules were none since we were willing to mix it with cream of mushroom soup and potato chips and call it dinner.
I moved to Chicago and wow the rules got exact and intense and they changed from one hot dog place to another but the one constant in Chicago was no matter the dog there absolutely was no ketchup. When I lived in Chicago Wrigley Field served Sara Lee(home town company) Ball Park Franks and frankly I am being nice when I say I hated them.  They were gross and you could have put anything on them including ketchup and they would not have gotten better. I would get my fill of hot dogs outside the stadium grabbing 2 from one of the many vendors around the park taking my glove and sitting on Waveland Ave waiting for a ball to fly over during batting practice. I never caught a ball but I ate a stadium full of hot dogs!
Prior to 1982 Chicago's own Vienna Beef Hot Dogs were the dog of choice inside the park and in researching this it was great to read they are back as the stadium dog as of the 2012 baseball season. So when I get to Wrigley Field again I know I can have a great dog inside the park.  Had I thought in a million years The Cubs would be playing in the 2016 World Series I would have done some recon and got my hands on a Vienna all beef hot dog and shared with you the glory of a dog in a steamed bun with yellow mustard. It is simple but elegant and divine in its  taste.  Alas I visited 4 stores here in Ohio and was not able to put my hands on a regular old-fashioned Vienna hot dog to save my life.  So you will have to trust me when I say they are amazing.
I have never been to see the Indians play though that is now also on my list of things to do in Ohio. I like the team and so many of my friends are fans it is funny how you find that out when your team is winning. Curiosity got the best of me and I wanted to know what kind of hot dogs they are selling up in Cleveland and how they eat them.
Sugardale is the hot dog in the stadium. Now when I say hot dog this is just what they give you wrapped in that little foil paper in a bun and then they have some condiments for you to choose to top your dog with. Mustard, ketchup ,Onion and relish are the options.
Off to the grocery store I go but not before a  little reading and lo and behold a bit of mustard controversy exists up there in the city by the lake. Cleveland has a mustard war on their hands. Progressive field serves exclusively  Bertmans Ball Park Mustard. Not being from here when I went to the store I was confused by the same color of mustard and its wording on the bottle. They looked like the same type of mustard and both claimed the same thing.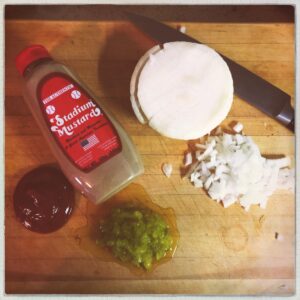 The Authentic Stadium Mustards bottle says this…" Served and enjoyed by fans at Cleveland Stadium and other venues for decades, this mustard now also has the honor of being requested on three space shuttle missions.  When you open this jar, you may not hear the crack of the bat or the roar of the shuttle, but you will have shared with me and now millions of fans this unique, high quality, stone ground mustard that is now truly out of this world!!"
Then the Bertman Mustard had this to say…."Since 1925. Bertman's memorable spicy mustard used at the Cleveland Stadium for over 50 years has been proclaimed "the best mustard in the world" by fans and mavens"
I tried to get the exact history of this feud but there is a lot of ..mustard said this and mustard said that but what is certain is if you have strong opinions on this and you are going to an Indians game and your favorite mustard is Stadium you may be forced to smuggle it in.  This actually does happen and I have determined this is a very big deal if you live in Northern Ohio and if you live anywhere else either mustard will do.  I will  say with certainty  they were both really tasty and if you can find one or the other on your store shelf buy it. I liked Bertmans just a tish more as it had a more pronounced taste with a bit of sweetness! Which is good for me as I will not have to fill hand cream tubes with stadium mustard when I do goto an Indians game. I can just eat Bertmans  mustard as provided.
I also found the Sugardale Hot Dogs to be really good. There is a reason this combo was named best stadium hot dog in baseball. So if you are here in Ohio and an Indians fan you have a few hours until game 2 of the 2016 World Series get yourself to the store and have a little ballpark meal tonight.