I live in a town outside of Columbus Ohio called Westerville. Its just small enough to feel like a little town but big enough to have all the things you get in a city. We are a small college town we know and talk to our neighbors. We have great community events from our 4th Fridays to church spaghetti dinners and Rotary fish fries.
It is here since 2009 every Memorial Day weekend you can find the Field of Heroes . It started as a one time event and has grown over the last 8 years to be an amazing show of support to not only our Military both Past and Present to those giving it their all and to those that gave all.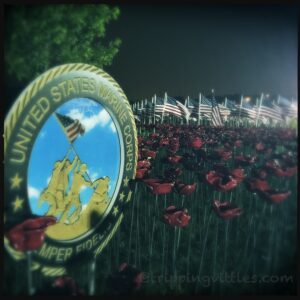 I have driven by many times over the years but this year knowing that I have 3 friends overseas currently serving I felt it was time to take a look. Too say I was moved was an understatement. I never expected to be so informed and so amazed by what I mistakenly thought was  just a field of flags.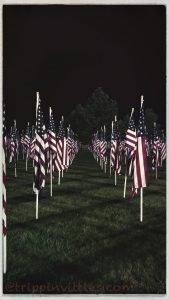 Many flags held the story of family heroes Fathers, Mothers ,Grandparents , Uncles & Aunts serving in all Branches of the service their families or friends planting a flag in their honor. Not all died to young many of the heroes lived full lives filled with accomplishments and raised families some passing on the duty to serve to their children and even grandchildren.  Many are still living, a tribute to the great military we have. Some are not service members at all.  Some flags are there for people who made a difference in someones life a hero to one for many reasons… a teacher that cared, a neighbor who was there when needed, someone sho saved a life,  all gave something of themselves to another human being. Than there are those for men and women who have died in battle a battle waged in many wars in order to keep us free. Brave men and women who fought for us all no matter our race, religion or sexual orientation but fought for us because we too were Americans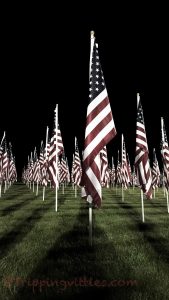 It was a beautiful night the downpour of rain felt like tears for the heavens. Thunder and lightning were the battles waged. When it all stopped their was a peaceful quiet interrupted by the sound a 3000 flags blowing in the breeze.
Each year the Field pays tribute to a special group of heroes. This year was no exception.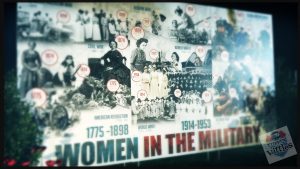 During the American revolution women disguised themselves as men and fought for freedom. WWI 33,000 women serve as nurses and support staff.  Eight US Service women die fighting in Vietnam. Women for the first time deploy with men in the first Gulf War and today they fight for our freedoms along side men in all Branches of the Armed Services. This from a time line on display in a special tent honoring women in the military.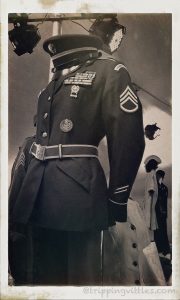 As part of the tribute to Women in the Military school kids in Westerville made 4600 poppies. As stated in the program there is significance to the poppy as it is a worldwide symbol of remembrance dating back to the first world war and a Canadian Poet. Lt. Col John McCrae, the Poem  In Flanders Fields.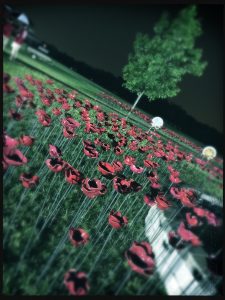 I am so very lucky I am blessed with the good fortune of living in Westerville Ohio in the United States of America. I know what people have sacrificed to allow me this good fortune and today on Memorial Day I remember those heroes and if I ever start taking it for granted each year on Memorial Day I can go to the Field of Heroes and be reminded it is about more than just me.