Anthony Bourdain is not the reason I love Food, Travel and Adventure my mom and dad hold that honor. Anthony Bourdain is the reason I write about it and want to keep writing about it. Now with him gone I feel a compulsion to never stop.
He will never know how absolutely loved he was throughout the world.  It's part of the big fuck you of suicide. You die before the last act. Many of us have had suicide affect us. My own Grandmother killed herself before my dad was even old enough to know what moving from grade school to high school was like. She never knew that he would be a college graduate, successful computer engineer, father of two breathtaking daughters(well one is me I can describe myself how I want), married to an incredible woman. The woman I never called Grandma missed this by walking out before the last act..
He will never know…
On news of Anthony Bourdains passing President Obama tweeted with a photo of their meal in Vietnam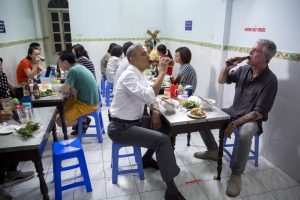 "Low plastic stool, cheap but delicious noodles, cold Hanoi beer." This is how I'll remember Tony. He taught us about food — but more importantly, about its ability to bring us together. To make us a little less afraid of the unknown. We'll miss him"…..He missed the last act the one where you get to realize that a leader of the free world admired you!
A note about the photo I did not take it. Though how fucking cool would it to have been to share a bowl of noodles with those two and  I think I would have even drank a beer(I don't like beer). The photo was taken by Pete Souza This links to his Instagram account  where he shares photos he took as the official Photographer for President Obamas white house.
Anthony Bourdain his Influence on Tripping Vittles
Anthony Bourdain over the years has woven a story of the differences in people and how coming together over food can heal so many divides.  The idea when I started this whole food blogger thing was I wanted to go out and find American food stories and products. I wanted to share the stories of finding great American made items it would be a search. I would find a great jam or chefs knife and I would tell the makers story and then sell their item. Thus making money.
As this has morphed and become more about the journey and far less about an internet retail outlet. These are my stories of living the food life of traveling and now because he checked out before the last act it now is also about  honoring Anthony Bourdain. He will never know that his inspiration is the base for what Tripping Vittles will be. Some day when I collect my James Beard Award for this little "Vittle"  I will thank my mom and my dad and then I will thank Anthony Bourdain.
How I ended up here
Before I even knew about Anthony Bourdain I was into adventure and food. Well my Mom and Dad were into adventure and food and so were their friends. We traveled the Rocky mountain states in the summers when I was a kid.
We did not stay at a local KOA it was far more adventurous than that.  My dad would send away for forest service maps all year-long and he would meticulously study the furthest away places(I did mention he was an engineer right?) we could get to without ever seeing other people. They usually involved a dirt road or logging trail, a mountain and a trout stream. My pivotal food moments as a child always happened on these trips or the trips with friends and family skiing or camping. Sometimes in a restaurant but mostly out in nature.
What is your Pivotal Moment
This is Bourdains most pivotal moment in his life. It came to him as a child in the form of an oyster It is my single favorite bit of his writing from the book Kitchen Confidential.
Anthony Bourdain….But I, in the proudest moment of my young life, stood up smartly, grinning with defiance, and volunteered to be the first. And in that unforgettably sweet moment in my personal history, that one moment still more alive for me than so many of the other 'firsts' which followed-first pussy, first joint, first day in high school, first published book, or any other thing-l attained glory. Monsieur Saint-Jour beckoned me over to the gunwale, where he leaned over, reached down until his head nearly disappeared underwater, and emerged holding a single silt-encrusted oyster, huge and irregularly shaped, in his rough, clawlike fist. With a snubby, rust-covered oyster knife, he popped the thing open and handed it to me, everyone watching now, my little brother shrinking away from this glistening, vaguely sexual-looking object, still dripping and nearly alive. I took it in my hand, tilted the shell back into my mouth as instructed by the by now beaming Monsieur Saint-Jour, and with one bite and a slurp, wolfed it down. It tasted of seawater … of brine and flesh . . . and somehow … of the future. Everything was different now. Everything.
More alike than different
I feel this in my soul. Anthony Bourdain was only 11 years older than myself.  I do not know all the demons he carried but I do know that demons can break you.   When I was 32 Kitchen Confidential came out.  I had worked in the Food Service industry for 17 years by that time. Not to brag I could have written this book had I thought at the time to be a writer(arrogance much?)
That is arrogant but in this business you have to be arrogant. It does not matter if you are the dishwasher or VP of Operations at a food distributor. Arrogance is fuel. You see you are always in competition with yourself, the guy next to you in your station, the guy above you in the station you want, the manager who has not made a meal in a kitchen or served a plate of food in their life. Your arrogance drives you, you know you make a better, steak, taco, burger or pizza than the guy down the road.
Your Team,Tribe,Crew
The group of people you work with are better than any on the planet I dare someone to tell me different.  I can wash dishes cleaner, turn steaks quicker, fill coffee cups better, cut pizzas faster. My team will win more bids, deliver more food, sell more truckloads, find you what you need.  This business is about competition it is also about being a tight-knit group of people. We sweat together, we bleed together,  we fuck together, we cry together and  when one fails we all fail.
Knowing we fail together we also die together and yesterday when Kitchen people(if you have ever shed a single drop of sweat in a restaurant you are kitchen people) across the world woke to find one of our own took his life, and it was not the one you had secretly hoped would leave the plant with his ugly orange shoes and his bloated sleazy face. You died a bit too.
You wept. even if you did not know him you were struck dumb. How could the guy who had the job and life you wanted(admit it we all wanted his  job) had succumbed to the demons. We wept because we lost one of the tribe. One of the guys who got it. A good guy a fighter and a lover a guy who would bleed with you and for you..
Inspiration
I did not write the book Kitchen Confidential but the guy who did went on for 17 years inspiring me. He traveled the world. I always said I would do that(I haven't yet). I have traveled America but there is a whole spinning globe I must get to! That is the Bourdain influence. I want people to know that there is nothing scary out there that we are all connected by food. That is the  Bourdain  influence. I want to call out and explain the injustices of the world and try to make them better. That is the Bourdain  influence. I want us to love each other and heal wounds both old and new I have no doubt we have to do this thru food. That is the Bourdain  influence.
Today I am going  over to a Vietnamese noodle house and have a big bowl of noodles for lunch. I urge you to do the same thing. Anthony Bourdain was in love with the food of Southeastern Asia including Vietnam, Cambodia, Thailand, Laos. I can think of no better way to honor him than eating some of his favorite food. Maybe I will celebrate his life by each day this week eating food from a different country of that region.
The End
Which leads me to how I will end this….It is clear that most people admired Anthony Bourdain the reasons varied.  Overcame drug addiction, cooked great food, traveled the world, was honest, articulate, intelligent, talented, had a cool job, knew cool people, called out people on their shit, had awesome tattoos. Whatever your reason for liking him and maybe even more reason if you did not. You should cross that barrier and do something to honor his legacy. Here is my list you can use it or make your own.
Renew my passport
Eat a food I have never had before
Plan a trip(across town or across the world)
Eat food from a country we call our enemy(this apparently includes Canada now so Poutine counts)
Watch one episode from each of his TV shows

A Cooks Tour Season 1 Episode 3   Eating on the Mekong
No Reservations Season 2 Episode 14  Anthony Bourdain in Beirut
The Layover Season 2 Episode 9  New Orleans
Parts Unknown  Season 3 Episode 3  Lyon, France

Cook food, go on an adventure, fuck with abandon, make love with passion! Eat something delicious and live like you do not have another second.
Anthony Bourdain….Your life is not a temple it's an amusement park. Enjoy the ride
…. read his words his shows are great but his writing is everything
[amazon_link asins='0060899220,0060012781,0061718955,1582341338,1596913606,1401228283,158234180X,0062409956′ template='ProductCarousel' store='trippingvittl-20′ marketplace='US' link_id='180e73d0-6bf5-11e8-8c84-57454e2c979b']