Eating cheese is one of the finer pleasures in life. This is about Doing More with your Cheese Tray by amping it up and turning it into a board party
I got to thinking about this last week when I was talking about cheese trays. All events seem to have cheese trays but we tend to do the same thing for all cheese trays. We cube up some cheddar, Monterey jack, and pepper jack.  If we want fancy we throw some Brie in a dish  with some jam on top.  Let us all think about doing more with the cheese tray than just cubes and jam. Let us up the flavors and push the boundaries.
I call this idea of an amped up cheese tray a board party.  It stems from childhood and my mom taking out the big cutting board after we would visit the cheese shop where my dad picked all kinds of different cheeses. Some so stinky your eyes would water but their taste was always ….almost always delicious.  she would lay out cold cuts and cheeses along with pickles, fruit and crusty french bread and we would have a board party. As a child it was  grand and it felt special.
Doing More with Your Cheese Tray
I am sure somewhere someone has written a real serious article on cheese trays . This is not that article. This is more about taking some simple good cheese and presenting it on a board in a way other than cubing it. It's about amping up your cheese tray and making it a board party. It's about having fun with cheese and with friends.  You can have a board party so easy and so quick. Just do these few steps and you will always be ready.
Have 2-4 interesting cheeses in your fridge at any given time. If you have a Kroger close to you this is super easy because many have Murray's cheese departments in them now. If no Kroger, check your local grocery/deli or wine and liquor stores. Many have cheese shops.
Have a box or two of crackers…my goto is Triscuit with sea salt.
Local honey
Fruit Fresh when you can and always dried.
By whatever name you call  the delivery device tray or board the  ingredient we speak of is still just cheese. Cheese usually made with Cow, Goat or Sheeps milk it is a tasty treat by anyones definition. This is not about being a serious Turophile it is just about expanding our horizons. I don't care if the mold used to make the blue cheese came from Napoleons belly button as he was hiding in a perfect temperature cave before his battle and you can taste his defeat in the veins of the  blue cheese.  It's still just cheese and we are going to serve it on a board.
Cheese combined with other things has given us some of the most delicious iconic dishes of our time…Macaroni and cheese, grilled cheese, cheese fondu, cheese pizza, cheese dogs & steaks, cheesy potatoes, cheesecake but lets just take cheese all on its own and discover that its more than just cubes.
Putting Together the Board Party
The following cheeses  and their easy preparation will kick your next cheese board party into over drive.  Note…you can have a board party with one board and one cheese or 4 boards and 4 cheese or you can throw everything on one big board.  You are the driver in this race to eating cheese! I would suggest though if it is runny or hot to have it in its own space as not to get to sloppy. but that too is your choice.  Let's get this Board Party started!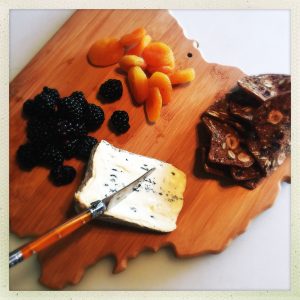 This is a blue cheese. Served with blackberries and dried apricots and a rustic fruit and nut cracker. Served on one of my favorite Boards in the Shape of Ohio.
tip for other use.. crumble on a salad with a balsamic vinaigrette dressing
[amazon_link asins='B00FDN73H2,B00Q0632P8′ template='ProductCarousel' store='trippingvittl-20′ marketplace='US' link_id='0f384c9e-4a35-11e8-805b-c175b47e0965′]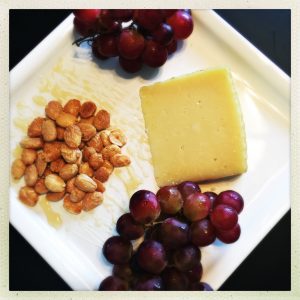 This is a delicious cheese from Spain Manchego Served with Red Grapes and Sea Salt Marcona Almonds drizzled with local honey.
tip for other use..grate over a fried egg and top avocado toast with egg and cheese.
[amazon_link asins='B072JJ5S34,B004ATUND6′ template='ProductCarousel' store='trippingvittl-20′ marketplace='US' link_id='5bfa0a7b-4a37-11e8-8e21-bd8317e0a128′]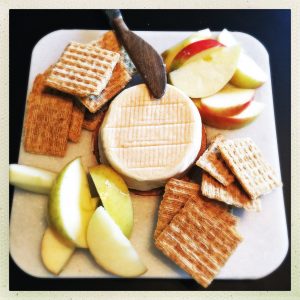 One of my favorite cheeses from Vermont Creamery. It is spreadable and goes wonderful with apples and crackers.  This is on a marble board that I love.
tip for other use.. Spread on toasted french bread with apple butter and rare thin sliced roast beef for an amazing sandwich.
[amazon_link asins='B019MHXVOI' template='ProductCarousel' store='trippingvittl-20′ marketplace='US' link_id='ba0cc392-4a39-11e8-8ec4-f306683dadb3′]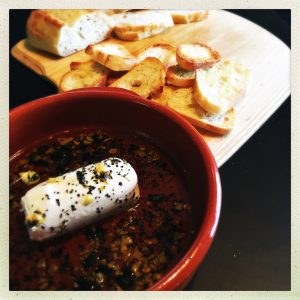 This is one of my favorite appetizers and it is almost always a participant in Board Party.
[tasty-recipe id="2158″]
I love cheese and I love Board Parties. Here are a few more items i like to use for board parties that you can pick up thru amazon.they also make great gifts.
[amazon_link asins='B0023VRT08,B001DEN4E6′ template='ProductCarousel' store='trippingvittl-20′ marketplace='US' link_id='a0fd62a8-4a41-11e8-8120-27fb3890a46c']