Welcome to Leia's Adventures #3 Chinese Food(Dim Sum) Edition.
I have to say when I go to an ethnic restaurant where the nation of origin speaks a different language I always check to see how many people are there from the nation the food is from and how many are speaking the native tongue. Today's adventure is no different we are going to China by way of Fortune Chinese Restaurant
When you are one of the few caucasian faces and English is not being spoken you can always be guaranteed you are in for a treat today was no different.
I am a fan of dim sum. I suppose it is a lot like last week's adventure to Brazil It is a way to try different flavors without committing to a whole meal. This is Leia's Adventures #3 Chinese Food(dim sum). The following link will take you to a kid's book on Dim Sum. The whole idea of bringing Leia into Tripping Vittles is that kids and adults alike love dogs and maybe Leia can help introduce kids to a whole world full of food they have never experienced. As everything with Tripping Vittles, this is a work in progress.
The Food
The Shrimp Dumpling and the Fermented Eggplant were delicious.
I went with the Radish Rice cake instead of Taro Rice cake I was not disappointed. The Chive Bun was out of this world as was the golden lava bun. Deep-Fried Dumplings looked like chicken wings but were shrimp was a special surprise. Sticky Rice was a killer it had chicken in it and it tickled the taste buds. For dessert the Durian Cake and the Egg Tart were tops.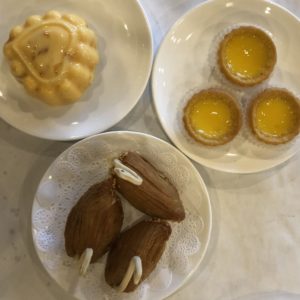 I have enough leftovers to feed me for a week. I need to find a way to have my followers join me on these little jaunts so I do not have to eat all this food for days.
The Hike
For the hiking part of the adventure, we headed to Indian Run Falls in Dublin Ohio. It is a pretty little park and walk. I would for sure go after a rain because the falls are really pretty. Today Leia is wearing her Gooby Harness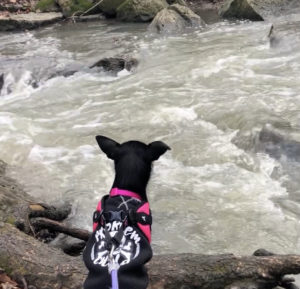 As always if you buy from amazon using my links I make a little cash.