I had a post today planned that was about sugar cookies. Tomorrow is National Sugar Cookie Day maybe next year.
Today I am sad and worn out. The week started for me so positively I had had a vacation and was looking forward to getting back into the swing of things. Life started to intervene I read about a terrorist attack in Iraq that took the lives of 250+ people mostly Muslims killed by ISIS so you have not heard much about that here in our world as if its somehow less than those killed in Orlando or Paris or Boston. I changed my photo on Facebook to have an overlay of the Iraqi flag. It seems to be what we do when we feel something for someone and have no other way to express our sorrow or pain.
Next I was inundated with what appears to be the outright murder of two black men in two different parts of the country. These things happened in two states that I hold near and dear to my heart. I grew up in Minnesota  I played soccer games in Falcon Heights my Dad worked in Roseville. I know these areas and it hurts inside to see those back home having to deal with this horrendous situation of a man seemingly gunned down for no real reason.
I love Louisiana I used the state as my escape from life on weekends when I worked in Chicago at a job that I hated but did not know how to get out of. When I had the time I would fly to New Orleans or Baton Rouge  and I would immerse myself in a culture and food world that I found exciting and fascinating. The situation appears different as a fight ensued but I still see no reason for that man to have died. Yes I am being an arm chair quarterback I can its my blog. I changed my cover photo to a quote by Martin Luther King it seems to be what we do when we feel something for someone and have no other way to express our sorrow or pain.
This morning I awoke to the news 11 police officers were shot and 5 killed at a peaceful rally in Dallas. I cried and did not feel like writing about sugar cookies.  I went to change something on social media to show my support it seems to be what we do when we feel something for someone and have no other way to express our sorrow or pain. I was out of things to change!!.
We have a problem in our country and we can continue to keep our heads in the sand or we can start to address it. I am not a law maker or a politician. I am a waitress who writes a food blog.  I am not stupid and I can see we need to start to come together. Its easy to say and harder to do.
One of my visions for Tripping Vittles is to share food and drink from other cultures to break bread with people who are not like me. I believe in my heart of hearts that if you can share a meal with someone and learn about them you can start to bridge a gap of differences and start to appreciate each other on a personal level.
I do not  think a meal  will cure everything but for me who has not a whole lot of power it is a place to start.  It is my way of doing more than changing a profile pic on Facebook.
Today as I was not prepared at all for this I have not cooked anything or have ingredients to make anything I am going to share a few recipes of others doing  from Iraq, Minnesota, Louisiana and Texas. You always hear no matter what our skin color we all bleed the same color red. That has been no more evident than with the many deaths these past few days but there are things we have more in common than the color of our Blood. We as people have food in common we use the same ingredients  we eat cookies and cakes for treats, we boil, bake or fry fish, we eat meats and vegetables. Our Bread is the same maybe some of us eat leavened bread and some unleavened but we all still eat bread.We have so much more in common with each other than with what makes us different.
The first recipe is taken from the pages of Sauver Magazine you can follow the link to a wonderful article about an American Soldier who fell in love with Iraqi cuisine while deployed. http://www.saveur.com/article/Travels/Hearts-and-Minds-Iraqi-Food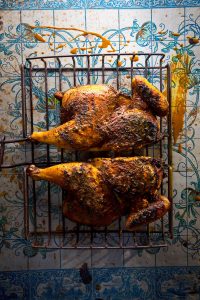 This fragrant spice-rubbed grilled chicken was a favorite of SAVEUR assistant editor Felicia Campbell when she was deployed to Iraq. .
SERVES 2-4
Ingredients
2 tsp. coriander seeds
2 tsp. cumin seeds
2 tsp. whole black peppercorns
6 cardamom pods
4 dried chiles de árbol, stemmed
4 allspice berries
4 whole cloves
4 dried rose hips
1 tbsp. curry powder
1 tbsp. ground cinnamon
1 tbsp. ground sumac
2 tsp. ground ginger
1 1⁄2 tsp. freshly grated nutmeg
1 tsp. ground fenugreek
8 cloves garlic, mashed into a paste
Kosher salt and freshly ground black pepper, to taste
2 chicken halves (about 3 lb.)
Flatbread, such as naan, for serving
Instructions
Heat coriander, cumin, peppercorns, cardamom, chiles, allspice, and cloves in a 10″ skillet over medium heat until seeds pop, 1-2 minutes; let cool. Transfer to a spice grinder with rose hips; grind and transfer to a bowl. Stir in curry, cinnamon, sumac, ginger, nutmeg, fenugreek, garlic, salt, and pepper; add chicken and toss to coat. Cover and refrigerate overnight.
Heat a charcoal grill or set a gas grill to high; bank coals or turn burner off on one side. Grill chicken on hottest part of grill, flipping once, until slightly charred and cooked through, about 45 minutes or until an instant-read thermometer inserted into thickest part of thigh reads 165°. If outside starts to burn before chicken is cooked, move to cooler side of grill until done. Rest chicken 10 minutes; serve with flatbread.
There is nothing more Minnesotan  than Hot Dish this is a simple Wild Rice Hot Dish taken from a cute blog I found. http://cookinupnorth.blogspot.com/2012/01/minnesota-wild-rice-hot-dish.html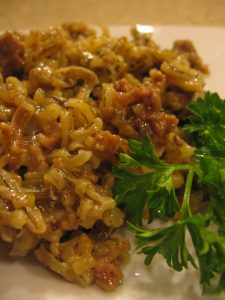 Minnesota Wild Rice Hot Dish
1 lb. hamburger
1 c. celery, chopped
1/2 c. onion, chopped
1 c. wild rice, rinsed well
4 Tbsp. soy sauce
2 c. cold water
1 can cream of mushroom soup
1 can cream of chicken soup
1 small can of mushrooms, drained
Brown the hamburger, celery, and onion. Mix all the rest of the ingredients together and add the hamburger mixture. Pour into a greased casserole and bake at 350 for 1 1/2 hours, or until done
I traveled more times than I can remember to Louisiana I love the state I love the people and I love the food. Jazz Fest in the 90's was where you could find me. I have not been back since Hurricane Katrina and Jazz Fest is now just a festival big and commercial but they still serve up some amazing food if you want to see what the food is like check out this page http://www.nola.com/food/index.ssf/2015/04/50-plus_recipes_from_new_orlea.html
I am sharing the BBQ shrimp because I was there in 1999 and I think I may have eaten 5 or 6 servings of the stuff over the course of the fest.
Barbecue Shrimp
Makes 4 servings
2 tablespoons vegetable oil
12 ounces beer
2 teaspoons finely minced garlic
4 whole bay leaves, crushed fine
2 teaspoons crushed dried rosemary leaves
1/2 teaspoon dried basil
1/2 teaspoon oregano
1/2 teaspoon salt
1/2 teaspoon cayenne pepper
1 tablespoon paprika
3/4 teaspoon freshly ground black pepper
1 teaspoon fresh lemon juice
2 pounds whole fresh shrimp, shells on
2 sticks salted butter
French bread for serving
Place oil in a heavy sauté pan or saucepan. Add all other ingredients except the shrimp and butter. Cook over medium heat, stirring constantly, until the sauce begins to boil. Add the shrimp and cook over medium heat for three to six minutes or until the shrimp turn completely pink. Add the cold butter sliced thin or cubed and agitate the pan until it melts, two to three minutes. Serve immediately with French bread for dipping.
I found a blog called The Homesick Texan and I can relate there is nowhere I have lived that I have not longed for some of the food from there after I had moved on.  The blog http://www.homesicktexan.com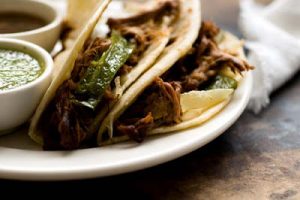 The recipe is Brisket Tacos Dallas Style.
Ingredients for the brisket:
3 pounds brisket, from the flat cut
Salt
Black pepper
1 tablespoon vegetable oil or bacon grease
1 large yellow onion, cut into quarters
8 cloves garlic
1/4 cup red wine vinegar
2 cups beef broth
1 teaspoon ground cumin
2 jalapeños, seeds and stems removed, cut in half, lengthwise
2 leafy stems cilantro
1 bay leaf
Ingredients for the tacos:
2 poblano chiles
1 teaspoon vegetable oil
1 large yellow onion, cut into slivers
1 cup shredded Monterey Jack cheese (4 ounces)
Corn or flour tortillas
flour tortillas
Salsa
Instructions:
Preheat the oven to 250°F.
Sprinkle the brisket with salt and black pepper. In a large ovenproof pot, such as a Dutch oven, heat up the oil on medium-low, and brown the brisket on both sides, about 5 minutes per side.
Remove the brisket from the pot and add the onions. While occasionally stirring, cook until they begin to brown. Add the garlic cloves and cook for another 2 minutes. Turn off the heat and pour into the pot the red wine vinegar, scraping along the bottom to loosen all of the pan drippings.
Return to the pot the brisket, fat-side up. Pour in the beef broth and add the cumin, jalapeños, cilantro and bay leaf. Cover the pot and place in the oven. Cook the brisket for 6 hours or until it's fork tender. When you take the brisket out of the oven, let it rest in the pot uncovered for 30 minutes.
Meanwhile, to make the taco toppings, roast the Poblano chiles under the broiler until blackened, about 5 minutes per side. Place chiles in a paper sack or plastic food-storage bag, close it tight and let the chile steam for 20 minutes. Take the chiles out of the bag and rub off the skin. Remove stem and seeds and cut the chiles into strips. Heat up the vegetable oil in a skillet on medium low, and add the onion slivers. While occasionally stirring, cook until softened, about 10 minutes. Add the cut poblano strips and cook for 1 more minute.
After the brisket has rested, remove it from the pot, cut off the fat cap and shred the meat with two forks until it's in long strands. To make the gravy, strain the cooled broth, throwing out the vegetables. Remove the fat from the broth with a gravy separator. Or alternatively, you can take a quart-sized plastic storage bag and pour some broth into it. Snip a bottom corner of the bag and drain the broth, stopping when you get to the fat layer that is on top. Add 2 tablespoons of the gravy to the shredded brisket, reserving the rest for serving. Taste the brisket and adjust seasonings.
To make the tacos, place on one side of each tortilla some Monterey Jack and slide the tortillas under the broiler for 30 seconds or until the cheese is melted. Fill the tortillas with shredded brisket and top with some of the onions and poblano strips. Serve with the pot juices and salsa.
I hope as I move forward with this blog I will be able to share stories and food and music of other cultures and tastes. It is truly how I feel we will heal thru sitting and getting to know each other.
All photos and recipes came from sources sited they are not original Tripping Vittles Creations.