What constitutes a Road Trip??
When I was a kid "Over the River and Thru the woods to Grandmothers House we go" was not just a childhood song about Thanksgiving it was an actual road trip I took many times as a child. We would all pile into the car. Mom and Dad and my sister and I. We would cross the St. Croix River and drive up the big hill lined with trees and zip on down the road to grandmas house. It was exciting there was usually something fun to do on the other end of that trip. A holiday to celebrate, a weekend fishing trip, a Birthday. Now days people commute to work in the Twin Cities from New Richmond everyday, when I was young it was an actual trip to get to grandmas house..
There are the necessary road trips. The drive off to college, The moving truck with your first job. The death or birth of someone far away.
There are the Vacation Road trips. As a kid we would vacation in the Rocky Mountains. Montana, Idaho, Colorado, Wyoming. These were epic long trips 2-3 weeks of driving camping and seeing some of the most beautiful places in the world. Learning about the fine dining experience of The Greasy Spoon. Eating and drinking the local food stuffs cherries, Trout Rainbow and Brown, seasonal vegetables. The roadways were not lined with McDonalds and Taco Bells. You would pull off into a town and ask a gas station attendant where the best place to eat Breakfast, Lunch or Dinner was. On our way home we would count the miles by counting down the signs to Wall Drug Store.
For the most part we do not do that type of vacation any longer. Instead we pick a destination and we make a Be-line for it.We Fly or if we drive we drive fast stopping for gas and food in the same quick stop because at many gas stations along our interstates you will find a Subway, or Hardee's attached right to the building.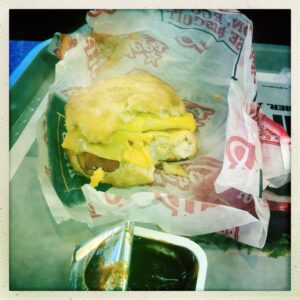 Take it and go! get to Walt Disney World or the Beach or the mountains as fast as you can. We do not take time and smell the roses see what there is to see between here and there. When was the last time you stopped at a historical marker and read what it had to say.
This blog is about smelling the roses but I am as guilty as the next of just "getting there" . I drove from Columbus to Miami in 20 hours stopping for food and gas only. It was a road trip and a very fast one. I flew home as it was a one way driving trip in 36 hours I had covered about 2300 miles back and forth. I knew what I had missed out on I saw the signs in each state of things that would be of interest. Civil War Battle Fields, Dollywood, The Town Walking Dead was filmed in and Walt Disney World. Thats just one place in each state that holds an interest for me. On this 36 hour trip I started to think about all we have here in this country and how we go whole lifetimes missing out on what is right in front of us.
Its time to see where the road will take us!! Share with me your favorite road trips!! If you have somewhere you think I would like to go let me know!! Lets start to smell the roses!!
I Know sometimes flying is the best and easiest way to reach a destination but remember to look around at the airport. Try a walking road trip of the airport you are in Its a great place to find some of the most popular local fare of a given city.  Take Chicago's  O'Hare Airport…You can get a Bag of Garrett's Popcorn(Chicago mix is a must) and some  Guacamole and margarita's made by Rick Bayless of Frontera Grill fame with out having to make a reservation and fight the hordes of people at his restaurant.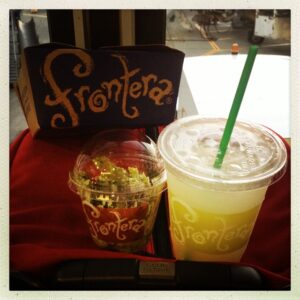 Road Tripping how ever you decide to do it enjoy the ride!! #trippingvittles @rickbayless #roadtripping