It's that time of the year again. The time of year where everyone becomes a football fan if only for no other reason than to eat junk food have a few cocktails and get together with friends.
Football has always been a part of my life. When I was a kid my dad would tell stories about how as a college football player his team played Great Lakes Navel Station. Now that may not mean anything to you now but in the early 50's with the Korean War going and the Navel Reserve making up the team at Great Lakes they had many a future NFL player on their roster and  in 1953-54 to The Salad Bowl in Phoenix. The same thing happened in WWII when Great Lakes defeated the #1 University of Notre Dame. Here is a article on the  Rich sports history of Great Lakes  . My dads stories were about how riding the bus home from Great Lakes they had a lot of blood a few broken bones and were very sore. Their little Blue Devil team from the University of Wisconsin-Stout got destroyed by an honorary Big 10 team.
My parents spent many a cold winters Sunday at The Met watching the Vikings play football.  It was the days of Bud Grant, Fran Tarkington and the "Purple People Eaters" Alan Page, Carl Eller, Jim Marshall and Gary Larson.  They faced the likes of the "Fearsome Foursome" of the Los Angeles Rams and the "Steel Curtain" of the Pittsburg Steelers. The early 70's were where I formed my love/hate relationship with the Vikings. Much like being a Chicago Cubs fan the moniker Theres Always Next Year has become all to familiar. I still can't stand the colors Black and Gold!!
I have close family that are "owners" of the Green Bay Packers. I still love them even though they are horribly misguided in all things Green and Yellow.  My Uncle Bill and Uncle Jeff  are Owners and they have never let me forget it.  Founded in 1919 and joining the NFL in 1921 they are currently the oldest NFL franchise in constant play in the same location. The Super Bowl Trophy is Named after their storied coach Vince Lombardi….. I could write more but my eyes will start to bleed. That was the most painful paragraph I have had to ever write and that will be about all I can do on the Packers.
When I was older and living in Chicago a group of friends and I would have fun food filled fests on Super Bowl Sunday. The best part about that is we were all fans of football but only a few were from Chicago and home grown Bears fans. So I was spared the talk of Super Bowl shuffles and punky QB's for the most part.  The rest were fans of many different teams from  all over the country and it was really more about eating and drinking than watching  football. I have continued this tradition of friends and football here in Ohio. The funny thing about Columbus Ohio is everyone is a Buckeyes Fan and than the NFL teams come second. That makes a Super Bowl Party really all about the food and drinks. Which I guess from my experience a great way to cope if you are in a state that has football teams that never win. It is obvious to a Vikings Fan when football has become more about Gastronomy than Gridiron.
So what better place to create a fun Old Skool Super Bowl party. Where the food can become the topic of conversation as there is no team in close proximity that is playing in the big game this year!!
I have a vast collection of old cookbooks. I find it something akin to archeology when you peel back the pages of an old cookbook and see how people ate and the ingredients they used. What they were like and how the viewed each other. I read cookbooks like others read Nicholas Sparks novels. Some years ago I was given an old cook book my mom had in her collection. National Food Lovers Cookbook. Published in 1980 it was a collection of some of your favorite players coaches and personalities of Football and their wives recipes for game day. This cookbook is what i am going to base our Old Skool Super Bowl Feast around.
The parties of the 70's were not just cheese and crackers, buffalo chicken dip and brownies. That is what much of our entertaining has become. We are crunched for time. We tell everyone to bring a plate and it is easy. Back in the day you still broke a meal into parts. You had the Appetizer, Soup or Salad, Entrees, Desserts and any accompaniments that went along with the meal. The host provided the meal and guests came with a hostess gift. To this day I love to throw this type of party. It maybe a control thing on my part. I am able to control the food and how it is laid out for presentation. I have control of all the flavors and how they present together. I also love getting hostess gifts. Seriously we all know a gift is fun and exciting no matter how big or small. In one of the cocktail recipes I created For this years Super Bowl I am using a Hostess gift some friends who travelled to the tropics  brought back and presented to me.
I took a recipe from each section of the book and made it. Following the exact directions and using the exact ingredients from 1980. The result a meal fit for consumption on Super Bowl Sunday that as it turns out was quite good.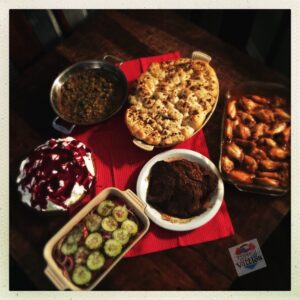 The following is a Super Bowl Sunday Supper easy to make, delicious and Old Skool right from the pages of the National Food Lovers Cookbook
The Pre Game Warm Up(appetizer) 
"wing-T" Chicken Wings : By Peter Cronan #57 LB Seattle Seahawks
4#'s wings split
1 jar apricot preserves
1 bottle of Wishbone Russian Salad Dressing
1 Envelope Lipton Onion Soup Mix
Mix preserves,dressing and soup together pour over chicken marinate over night. Bake at 350 for half hour until chicken is brown. Stir Often. Serves 10-12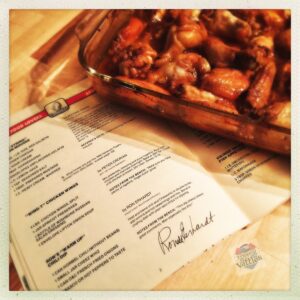 The Kick Off(Brunch/Tailgating)
"Suicide Squad" Garlic Pizza: By Vivian Niccolai (Armand Niccolai, former Pittsburg K)
2 Loaves frozen Bread
1/2 cup Olive Oil
2 cloves of Pressed Garlic
1/2 Tsp dried parsley
1/4 Tsp Oregano
salt & pepper
take the 2 loaves partly thawed frozen bread cut into one inch pieces in a well greased shallow baking dish or cookie sheet with sides. After you have covered the baking dish grease the dough with coating of olive oil cover with wax paper and let raise over night. The next day put the olive oil in the garlic bring to a boil. While hot spoon over the bread dough sprinkle with oregano parsley salt and pepper Bake at 350 for 45min or until desired brownies. serves 6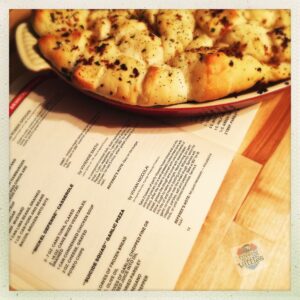 The First Down(soup/salad)
"Strongside" Sicilian Salad: By George Pernicano part owner, San Diego Chargers
Ripe Tomato Sliced
Red onion thinly sliced
Cucumber peeled and sliced
wine vinegar
olive oil
salt
black pepper, fresh ground
oregano
Arrange tomato, onion,cucumber slices on plate. combine vinegar olive oil (3/4 vinegar to 1/4 oil portions) Add salt and pepper to taste then sprinkle oregano to taste.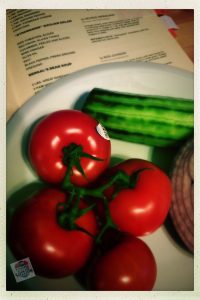 The Big Play(Entrees)
Purple People Eaters Pepperroast : By the Vikings favorite butcher Jim Biglow
Boneless sirloin tip roast or top round, 1/2 pound per person
1/2 cup course black pepper
1/2 Tsp Cardomon seed
1 Tsp Catsup
1/2 Tsp Garlic Powder
1 Tsp Paprika
1 cup Soy Sauce
3/4 cup Vinegar
combine black pepper and cardoon and roast in a large plastic bag. Rub the seasonings thoroughly on the roast and let it sit for 30 min. combine remaining ingredients and pour over roast, refrigerate overnight turning the bag often. Wrap the roast in aluminum foil with the marinade. cook for 2 hours.( a 5# roast would be med. rare) slice roast thin strain the juice and pour over the roast.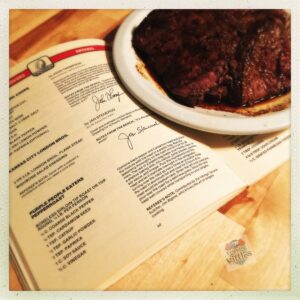 The Extra Effort(Dessert)
Denver's Mile High Pudding Pie: By Susie Morton(Craig Morton #7 Denver Broncos QB)
2 cups fresh strawberries
1-#2 can Vanilla Pudding or equivalent amount of cooled cooked pudding
1 cup sour cream
Glaze:
1/3 cup berries
1/3 cup sugar
1 Tbsp Cornstarch
2 Tbsp Water
9″Baked Cookie Crust
1 cup flour
1/2 cup(1 stick) Butter or Margarine softened
1/4 cup Pecans, finely chopped
1/4 cup confectioners sugar
Heat oven to 400 degrees with your hands  mix ingredients till they form a ball. press into bottom and sides of 9″ pan not on the rim. bake 10-15 min until lightly browned.
For the glaze stir together the sugar and cornstarch in sauce pan gradually stir in water and berries boil over heat for 1 min. , cool
For the filling arrange the strawberries in the cooled crust. Blend pudding and sour cream, pour over berries refrigerate for 8 hours. Top with whipped cream and or glaze.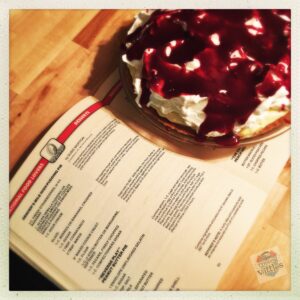 The Sideliners(accompaniments)
John Brodie's Mushroom Au Gratin: By Sue Brodie(John Brodie, sportscaster NBC, former San Francisco 49er QB)
1# fresh mushrooms
2 Tbsp Butter
1/3 cup sour cream
1/4 Tsp salt
dash of pepper
1 Tbsp Flour
1/4 cup parsley
1/2 cup swiss or mild cheddar, shredded
clean and slice mushrooms lengthwise thru the stem into about 1/4″ thick slices.heat butter in frying pan, sauté mushrooms until lightly browned. Cover pan for about 2 mins. until they exude juice. Blend the sour cream with salt and pepper and flour until smooth. stir into the mushrooms in the pan and heat. stirring until blended and beginning to boil. pour into shallow rimmed oven proof plate. this can be done in advance. Shortly before serving place uncovered in a 425 degree oven sprinkle with cheese and heat until hot and cheese is melted.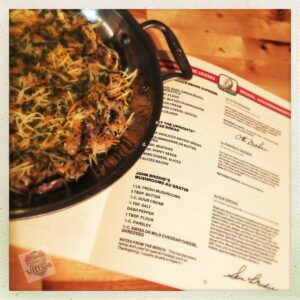 I can not tell you how fun it was to prepare these dishes. I had a few friends over and we tasted all of them and each one was great. The Pepper Beef and the Mile High Pie were my favorites but as you can see we put a nice dent in all the food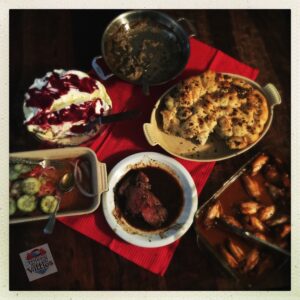 The cook book had a little section about wine but nothing about beer or cocktails and as you know I love to create me some cocktails. I got it in my head I should make a cocktail for each team participating in this years 50th Super Bowl. I will warn you ahead of time these are on the sweet side because I not only went with taste but color. It is pretty hard to make something orange or blue without it being on the sweet side.
Let's start with the Bronco's. I am going to root for Payton Manning and his team because there is something cool about seeing an old guy comeback and take a team to the top.
The Orange Bronco
3 Luxardo Cherries
3/4 oz Monin Orgeat Syrup(almond syrup)
2 oz Cherry Vodka
1 oz Triple Sec
1 oz Or-G Vodka
Place the cherries in the bottom of a martini glass. Put rest of ingredients into a cocktail shaker with ice. Shake shake shake and shake some more. Strain over cherries and enjoy cheering for the Denver Broncos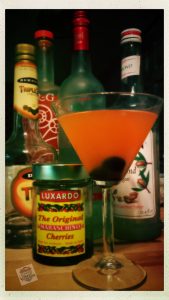 This is one for you all rooting for Cam Newton and his team. The Carolina Panthers did not even come into existence until 1995. Fifteen years after the National Food Lovers Cookbook was published. So it is fitting one of the ingredients in this is Silver Sweet Corn Whiskey bottle 36/1000 of only the 25th batch from The Indiana Whiskey Co. I call this..
Carolina  Blue Lightning
1.5 oz Creme Brûlée Vodka
2 oz Silver Sweet Corn Whiskey
1.5 oz Blue Curacao
Cream Soda
Spiked Cherries
Fill a tall glass with Ice add the Vodka, whiskey and Blue Curacao give a stir with a long spoon top with Cream Soda and 3 spiked cherries.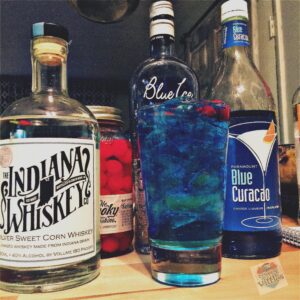 Have a fantastically fun Super Bowl Sunday. #superbowlsundayeats #trippingvittles #MoninUSA #BlueIceCremeBruleeVodka #TheIndianaWhiskeyCo