Trying to explain to my readers  I ate a meal that  brought me to Tears at Duck Duck Goat, yet I am not about to do a review about the restaurant.  I am wrestling with how I tell you about this meal with out telling you, you must eat there, I rate it 5 stars, 5 forks and what ever else you can think of.
Food can be so many things it can be warmth on a cold night , cooling on a hot summer day. Food can invoke memories from your past or create memories for your future. Nourishment to live is the primary function of food but when you think about food in that context it misses all the fun and deliciousness food gives you.
What moves you to tears?
Think about those things that bring you to tears. Commercials over the years like the Budweiser Horses have elicited that emotion. A movie, or TV Show. Jack sliding off that board and into the dark depths of the ocean after the Titanic sank, come on admit it that one makes you misty eyed. The words in a book you have read, Where the Red Fern Grows still gets me.
I  am moved by food. There is an episode of Anthony Bourdain No Reservations set in Lyon France that every time I watch him eat Chef Paul Bocuse food I am moved to tears. Why you ask?  Because he comes face to face with his hero and is presented with dishes that are next level. Meeting your heroes and eating their food is an incredibly powerful thing.
I have worked in and around food and the restaurant business since I was a child, memories of that move me to tears. There was a lunch lady in grade school named Lou who saw something in me a fascination possibly with the kitchen and she took the time to show me and tell me about the kitchen. I have a memory of her making soup in a huge pot with a big paddle, steam pouring off and the smell of chicken stock. This memory makes the tears flow.
The People Who Move Me
In addition to my mom cooking in the kitchen this one memory of Lunch Lady Lou making chicken soup hooked me on the path that 35 years later I am still loving. I have had professional heroes Julia Child, Rick Bayless, Anthony Bourdain, Ruth Reichl, Jose Andres.  I idolized one or more the things they did in their lives in the world of food.
A few years ago back to the early 2000's a cool TV show came on the Bravo network it was called Top Chef. The concept was one of a food preparation competition. I enjoyed the show but was giving up until the 4th season when a really nice kind chef appeared her name was Stephanie Izard and she did what many don't, she cooked with love, she was kind and she was really fucking talented and she WON! I cried. Many of you will not understand crying over a woman winning a TV Reality Show. It was a victory for all the women who had put up with shit in kitchens over the years. Restaurant kitchens are a male dominated domain. Those of us who have worked in that domain know that those women who hold their place in a kitchen and then take it to the level like Stephanie has are superstars. They move me to tears and they become my personal heroes.
Tears at Duck Duck Goat
That brings me to the meal I had last night but first a little background about my time being obsessive about Stephanie( yes I call her Stephanie because I imagine we could be friends if I knew her). She opened her restaurant Girl and the Goat after her win on Top Chef. She has partners but this is not about them. I was very lucky to go very shortly after opening and yes I fan-girled out and yes I got her autograph on the menu and yes the food was awesome.
I no longer live in Chicago so I have followed her career from afar. She kicked some ass on Iron Chef and won that. She opened Little Goat, She wrote a cook book Girl in the Kitchen. Fast forward to me planning a trip to Chicago  Easter Weekend and realizing we needed to pick a restaurant to eat at.
First thing that came to mind was Girl and the Goat. They were booked…Bummer but wait she has a third restaurant Duck Duck Goat.  Make those fast forward noises now and I am sitting at a table in one of my favorite cities in the world at one of my Chef Idols Restaurants………
A Visual Trip to Duck Duck Goat
Cocktails  the one drank was the South by South Sour.. Old Forester Bourbon, Singani 63, Melettie, Passion Fruit, Cinnamon and mint garnish.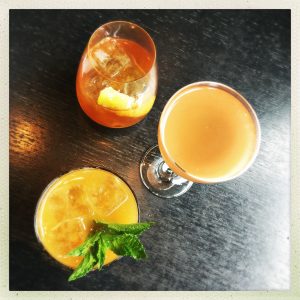 Oysters grilled with some tasty sauce that in the course of all of this I have somehow missed the ingredients. Maybe it's because I drank to many cocktails!!
Then we had pillows of heaven(my name not theirs)  their name for this dish Jiaozi it is a Beef short rib and bone marrow pot stickers.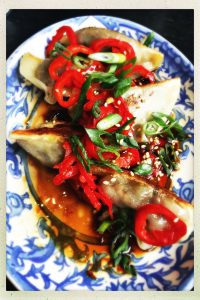 Crab Rangoon….Yeah its better than others and that sauce pineapple and spices and wow!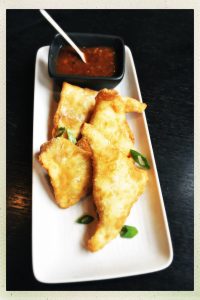 The emotion is is already running high the flavors were amazing Then comes magic. Soup inside a dumpling. The photo shows someone could not wait, excitement of a dumpling with soup inside was too much.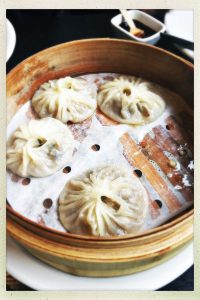 Gotta get your veggies and these green beans would be the best way anyone would want to eat green vegetables.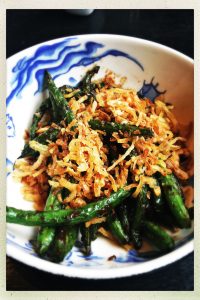 Tears at duck duck goat! The Peking Duck, It's a whole duck with tender meat and crunchy delicious skin. You have heard about this dish but have you ever actually eaten it??  If you have share with me your experiences if you have not I may suggest a trip to Chicago.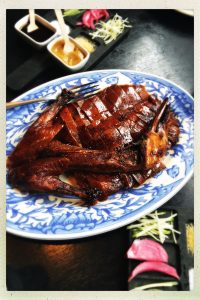 This dish is what sent me over the edge.  You will say what how does Fried Rice bring  you to tears?? no way! and I will say back to you yes it did this was the most rich multi-layered  flavor explosion.  A simple Pork Fried Rice with Jasmine and sweet red rice with pork belly and sausage. DAMN!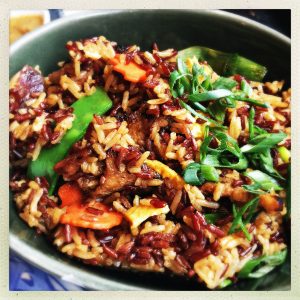 Now you may be thinking did you stop there…….Nope we finished strong with Dessert and I am glad we did.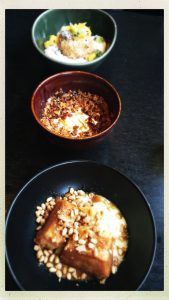 Shedding Tears at Duck Duck Goat.  This was a meal that created memories. It also rearranged my  top 5 meals of all time list.