How I define a doughnut? donut?  A fried ring of dough with some kind of frosting or glaze or a fried piece of dough filled with cream, fruit goo or custard. and on some occasions a twist of fried dough with bits of fruit or cinnamon coated with a flavor lumberjacks would love like maple.
For some people it is just a ball of dough rolled in sugar of the granular or powdered kind. Many call them holes if you are a Tim Hortons fan they are "Timbits". These are my least favorite items in the donut world so you will not hear mention of them again.
Many of you out there have your favorite donuts. Krispy Kreme right out of the fryer when they turn the sign on "Hot Now" this one action has been known to cause car accidents as people seem to forget they are in a vehicle and others may be between them and a hot donut.  Some swear by the Dunkin Donut or Tim Hortons and their seasonal regional items.
I grew up eating fresh made  donuts from Target they were a special treat after we went swimming on Saturdays. Now you say Target that is not mom and pop nor is it small. But back when I was a kid Target was a small arm of the local Dayton Hudson Corporation. The first Target opened in 1962 in the early 70's when I was eating chocolate frosting with sprinkle covered donuts it was a different world. My vision of a Target donut if there is such a thing now is a frankindounghnut processed with corn syrup frosting. But 40 some years ago they were divine!!
In college I had a job at a small bakery stuffing and glazing donuts. I am sure the place is no longer there I have no memory of the name. My job was to show up at the back door when the guy that made the donuts was leaving around 2:30am or so. If you were the first one there You got $40 and locked in with the donuts till 5:30am. You used these hooks to drop the donuts in the glaze and fish them out. You filled this machine with fruit goo and custard. and you slid the doughnut onto a nozzle and with a pedal on the floor you pumped the goo into the donut.It was the perfectly mindless job for someone in college.
Since my college days I have not thought much about donuts other than to consume them when they were presented. I missed the gourmet donut explosion that happened in Chicago after I moved away. I have heard stories of a place called The Doughnut Vault that when it opened would have lines down the street and when the donuts ran out they were done for the day. Glazed and Infused has multiple locations and is known for a maple bacon glazed long john. Chicago has become something of a donut lovers mecca.  There are now lists published of the best places to get a donut, the craziest flavors of donuts you can eat. Many of the donuts on these different lists can run up to $30 a dozen.  It was one of these lists that caught my attention. Popsugar had a list 50 States of Donuts:The best shops in America.
I started to search the list for places I have lived Illinois had Do-Rite Donuts nope never been there, Minnesota's Glam Doll Donuts negative, was not on my places to visit last time I was home in Minnesota, Wisconsin's Holey Moley Coffee + Donuts.. Never heard of it!!  By this time I had decided  I was going to visit these delicious donut places and as many more as I can off the Popsugar list. It will be fun to write about donuts and it will be a delicious pleasure to eat them!!!
One last place to look my current home Ohio. I fully expected not to have any idea where the donut shop they picked was and I surely had not thought I would have had anything from there… Wrong on both counts. My current place of residence Westerville Ohio made the list with Schneider's Bakery. A Bakery that has been at its current location since 1957. I knew they had donuts I have even eaten a few but the birthday cakes are what I have loved from here. Time to look at Schneider's in a whole new light.  Popsugar said the best donut was the Davey Crockett, a cinnamon twist covered in maple frosting.  It was going to be rough it would take research and taste testing to determine if Popsugar was correct and the Davey Crockett was in fact the item to order.  So I started with a dozen donuts and brought them to a friends for brunch I loaded up on the Davey's to see what people thought.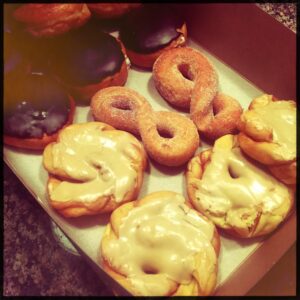 The consensus was Davey Crockett was awesome! but the Chocolate Covered Cream filled were pretty darn tasty too.
Westerville is a small college town home of Otterbein University and Schneider's sits a short block from campus. As each small college town can attest there is some local place that is open late or in the case of Schneider's opens early to satisfy college cravings. In my small college town it was a Submarine Sandwich Joint simply known as The Sub Shoppe. Here in Westerville it is Schneider's Bakery it satisfies not only the students late night cravings but also many a local makes the pilgrimage to the donut provider at 1am on late Friday evenings or Saturday morning depending on when you sleep for a made fresh still warm donut.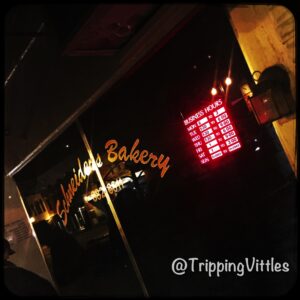 I have to tell you the glazed donut still a little warm are as Fantastic better than anything Krispy Kreme offers when their light flips on. I dare you to eat just one! Popsugar was not wrong in Ohio I would concur  my home town bakery is Rocking the donut and has flavors and styles to satisfy all donut lovers.
Whats your favorite place to trip on donuts?