The Lake Huron Road Trip, the first substantial road trip is happening. Starting on Monday we will be heading out on our road trippn adventure. I spoke about what was coming the last time I wrote. So today I thought it was a great time to introduce you to my traveling companions.
Travel Partners
I thought it would be fun to show you how my mom and dog interact. We have been planning and cannot wait to start this whole adventure. I have not traveled with my mom in years.
Why a Lake Huron Road Trip?
I grew up spending time at Lake Superior. Several times in my life I have lived on or close to three of the Great Lakes. I have spent time reading about the lakes and have had small short adventures on their shores. My goal is to do a road trip around each one.
I thought it would be a blast to take one of the people who instilled my love of Lake Superior in me. My Mom and Dad took us to Duluth and places north many times as kids. The last trip around the lakes with my parents happened when I was 10-12 years old. My mom is in her 80's now just seems like the perfect time to make this trip.
A Lake Huron Road trip will present challenges and also teach me about how I want to do Tripping Vittles on the Road. How can I take Tripping Vittles and share yet make some $$ to keep this whole thing rolling? I have such a fun vision in my head and I love you are on the trip with me. So I will ask you to do somethings. Below give me a follow. If I share something with a link and you too think that would be great, please buy it through my links. This is fun but I also am trying to create a business. I cannot thank all of you enough who already have done those things and for those that want to support me see the next paragraph.
Bookmark and Follow Me.
There are some places I will be doing live broadcasts. Sharing photos and videos and just writing about my experiences and with luck introducing you to fun, cool and neat things on the road. I will also have shopping lists for things that made this and other road trips easier on my Amazon page. Click the below icons to subscribe to my channels. Don't miss the road trip!
Affiliates
Lastly a word about affiliates. As I grow companies are starting to come to me and ask me to share products. I will not do anything with a company that I don't actually use and believe in what they offer. You will never see me representing makeup because I don't wear it. But know if there is a link I may possibly get paid by the company or through purchases of products on their website or a purchasing platform like Amazon.
Supporting the Adventure
Lastly I was told to include this link from people who have been doing this longer than I. This is my Venmo account if you are enjoying the content but don't buy on line or are not using the things I link to. But you want to support me you can scan the below link and toss a few dollars my way. I thank you ahead of time if this is the way you go and know everything sent will go towards this and future road trips.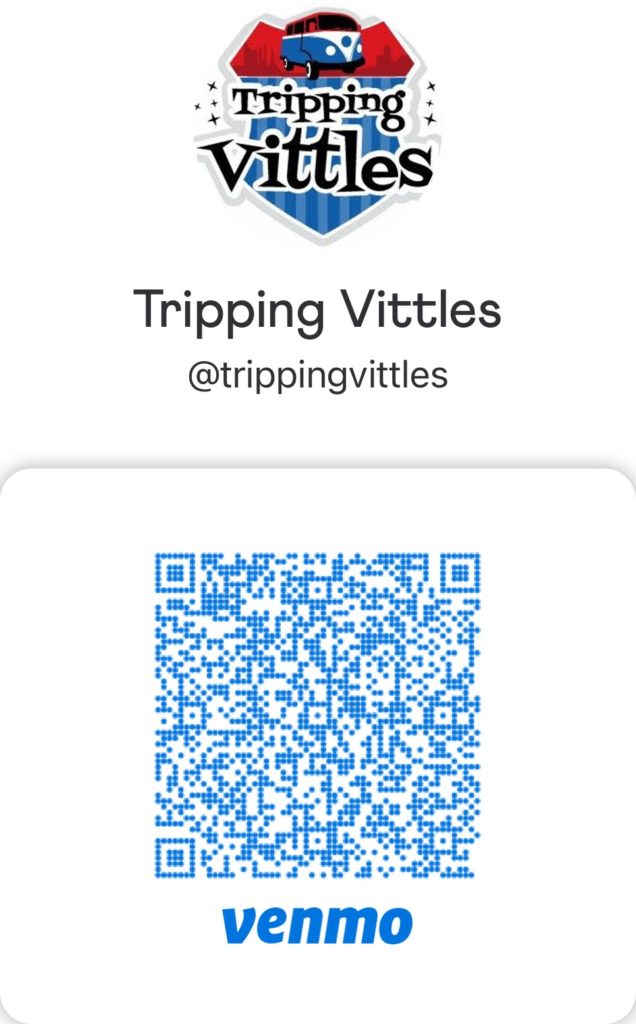 Tripping Vittles Venmo Account
Thanks so much and let's get to Road Trippn!