Tripping Vittles powered through 3 days on The Bourbon Trail to bring to you information and fun from Kentucky. Yes its hard work but someone has to do it.  We covered a lot of territory and as I stated before the trail is not one straight road it actually encompasses all of central Kentucky including Louisville and all points south-east to Tennessee.  I am about to make a case for you when visiting The Bourbon Trail consider staying in Bardstown. 
You have I am sure all heard the story of the Country mouse and the city mouse. It was a favorite of mine as a kid as were other Aesop's Fables. There are several versions of this tale but the basic premise is country mouse goes to city because it is supposed to be better more refined and he gets scared and goes back to country because it is simple but still awesome in the country just for different reasons.
Tripping Vittles telling of this story is the Ohio mouse went to Kentucky to follow The Bourbon Trail and though I liked the city part of my adventure as there is great bourbon in the city of Louisville but that will be a post for another time.  I fell in love with the country part of the Bourbon Trail and suggest everyone start their adventure as country mice.
A case for the Country Mouse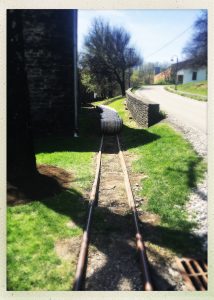 Not to mislead you everything in general on The  Bourbon Trail is an hour to hour and half away.  Tripping Vittles managed to hit 10 distillery in 2 1/2 days. That is powering through and it is why I want to separate city from  country and suggest while visiting The Bourbon Trail consider staying in Bardstown.
Bardstown is a quaint small town but not too small of town that you can find places to sleep, eat and drink. Though on Sundays the eating and drinking become a bit more of a challenge but well worth the time of research.  It is easily accessed by car from all directions and if you choose to drive up to Woodford Reserve you can Drive the beautiful Bluegrass Parkway. Side note in coming down from the  Columbus Ohio area Woodford Reserve is where we started our Bourbon Trail Experience.
Bardstown and The Bourbon Trail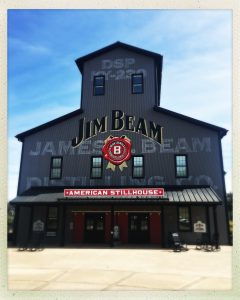 We hung our hats at Talbott Inn Bardstown .  After a day of Distillery visits at the aforementioned Woodford Reserve and Jim Beam Stillhouse .  We were ready to  wet our whistle at Old Talbot Taverns Bourbon Bar. A very impressive choice of Kentucky Bourbons. The tavern has a nice little restaurant attached where you can get great country cooking fired chicken and Kentucky Burgoo. There will be a whole post on Burgoo because it was that good!!
I was super grateful the rooms were less than a block from the Bourbon Bar, no need for driving so I could imbibe a bit on the spirit that brought me to Kentucky.
Why while visiting The Bourbon Trail consider staying in Bardstown.
When we awoke the next day we  loaded up and made a beeline for our next destination. My beloved Makers Mark Distillery  We did not even make it out-of-town and we were drawn in by a huge Barrel House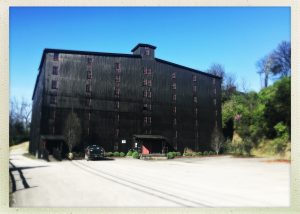 and a Sign that said Free tours Bartons 1792 Bourbon.  We had a lot planned for this day and already we were off the agenda. No regrets we were afforded a private tour of the Barton Distillery by a wonderful tour guide named Marjorie. Her knowledge of Bartons and the process was the best we met on our trip.  We road in and elevator  with the Master Distiller . It was a special experience and one we would have missed had we not stayed in Bardstown.
Off to Makers Mark which took us south than back up right past Bardstown.  Stopping at Willet, Heaven Hill, and Four Roses. This is where visiting The Bourbon Trail consider staying in Bardstown was born.  We kept passing Bardstown.  Instead we headed on up to Louisville where we had a great time but we became city mice and frankly I wanted to stay a country mouse. I did not know I wanted to stay a country mouse until I was in the city. side bar I will share in another post how great Louisville was and why you should make two trips to The Bourbon Trail.
The Drive Back Home and past Bardstown.
We woke up in the city and after a few sweet spots of city life we became country mice again.  Making the  case to ourselves maybe we should have stayed in Bardstown and doing our whole country adventure from there.
We found ourselves following a dirt road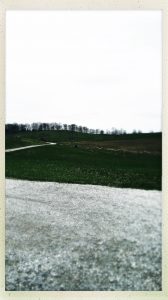 to the Three Boys Farm Distillery the home to some of the best Bourbon and Rye we found on our trip.  One last stop before heading home Buffalo Trace Distillery home of Blantons and Pappy Van Winkle. Neither of which I was able to procure, Sad face…Maybe next time.
I hope I have encouraged you to take a trip to The Bourbon Trail.  You can ram your way thru as many distilleries as you can.  Or be country mice and enjoy the simpler things in life-like leisurely drives and off the beaten path discoveries. One day soon I will make a case of why you should be city mice. Right now I urge you when Visiting The Bourbon Trail consider staying in Bardstown.  See the amazing amount of history there from My Old Kentucky Home to the Women of the Civil War Museum.  Make it your home base for a few days and explore central Kentucky. Tripping Vittles will be going back and we will be country mice for the trip.