There is a place some of you may know it "Trader Joe's" It is a food lovers dream and also their frustration. There are not nearly enough of these amazing little stores.
It all started in the 1950's at a place called the Pronto Market. In 1967 it became Trader Joe's. Not the exact same store we know now, the trade mark Hawaiian shirts did not come along until 1969 and the private labeling of products started sometime in 1972.  It was 5 years later in 1977 that the first organic product showed up on the shelf and it was apple juice.  They did not open a store outside of Southern California until 1988 and that was just North of LA. They waited until 1993 to open outside of California and it was not until 1997 they moved east and when they did it was all the way to Brookline Massachusetts.
I have been very lucky they came to Chicagoland in the year 2000 when I still lived there opening 2 stores on the same day and when I moved to Ohio they built one very close to where I lived and worked. You are probably wondering why the love for Trader Joe's as I sit here writing and chewing on caramels. Well why not the love??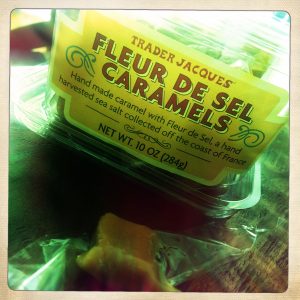 I went shopping there today and I love this store. Not because it is a conventional grocery store because it is not. Yes they have a few soaps, body lotions and such but you probably do not want to buy the recycled toilet paper there. It harkens back to the awfully thin and incredibly rough sandpaper we had in the grade school bathrooms of my youth.
What you do want to buy there is almost anything else. the cheeses are fantastic and not just in flavors and styles but also in price. They say on their website they control pricing by buying directly from suppliers, removing poorly selling items from shelf rotation. They volume buy and they stock the shelves themselves instead of paying suppliers to do so like the majority of grocery store chains.
Back to the cheese you can find grass-fed if you are paleo, goats milk if you can't have cow, sheep if you can't have goat and cow. Creamy cheeses Brie and St.Andre, sharp think cheddar, crazy think Stilton with mango and ginger or pesto gouda. It is a great place for cheese is it the most extensive not my any stretch go the means but the selection is nice and the price is right!
They have Creme Fraiche in the dairy section and it is cheap and very good! It makes Blintz with caviar and creme fraiche easier to accomplish. Alas I was let down in that they did not carry any caviar as I was craving some pillows of delight.   There are several places to order or get caviar try these from Amazon [amazon_link asins='B000HDJZEM,B0001990A6,B01NCRMX2H,B002FWA4Y8′ template='ProductCarousel' store='trippingvittl-20′ marketplace='US' link_id='525df7b6-ea28-42d5-886e-ef0d2769859b']
Haricot Vert
My most favorite thing in the frozen food section is the Haricot Vert or what are commonly known as string beans. They are flash frozen Green Beans thin and delicious. They are so easy to prepare and my favorite way is very simple.
[tasty-recipe id="2505″]
Recipe Shopping List
[amazon_link asins='B00MMQ922W,B00004RFMO,B00YBP918M,B06W5FQJQX' template='ProductCarousel' store='trippingvittl-20′ marketplace='US' link_id='a0aee517-4677-4964-b530-0a856c88ecbd']
Plantain Chips
I have to talk about my absolute favorite item at Trader Joe's it is the Plantain chips. Plantains are a the less sweet version of the banana. They are wonderful when cooked or mashed but the Chips at Trader Joe's are crispy after being roasted with sunflower oil and a light coating of salt.
I can eat these straight from the bag and be perfectly happy but I love them as a replacement for tortilla chips in my version of Chilaquiles Verde. You can make Chilaquiles as easy or difficult as you want. I usually make them on Sunday Mornings with what I have in the house.
[tasty-recipe id="2506″]
Recipe Shopping List
[amazon_link asins='B00006JSUA' template='ProductCarousel' store='trippingvittl-20′ marketplace='US' link_id='26fbf2f5-460b-47a2-a500-e24c01402479′]