Pub Crawls, Poker Runs, Bar Hopping. I am sure you have your own name for these type of events. I grew up in Minnesota I remember snowmobile runs where folks would stop 3 or for places for a beer and a shot. I think it was a way to get fresh air in the middle of a cold Minnesota winter and stay warm at the same time. As I got older the poker runs were used to raise money for charity but same concept go from place to place drink and or eat win stuff in raffles and stay warm in the fridge winter.
Once I got to college we called it bar hopping. I am old now and am not sure I remember all the names of the places we would go each night but The Spot, The Tap, The place with Mind Express a tasty little drink that was a mix between fruit punch and chewable baby aspirin…..Yes as a 20-year-old that stuff was gold, Last time I was there I was in my 30's and only one word describes it is  GROSS!!
Then the hopping stopped we wanted to sit at a place where people knew your name.  Where one could dance or watch sports, Where you were comfortable. Where you could learn the bartenders name and every once in a while garner a free drink. That was most of my 30's.
Now in my 40's staring at 50's across the table I am back to crawling!! They say life is cyclical well I guess so is Bar Crawling. A few years back I did a pub crawl at Disney World.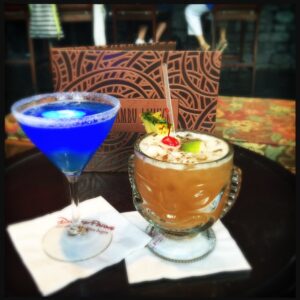 Then while in Boston last year we did an Oyster Crawl. Oh there was booze involved  it was fun going from place to place tasting Oysters and drinking cocktails.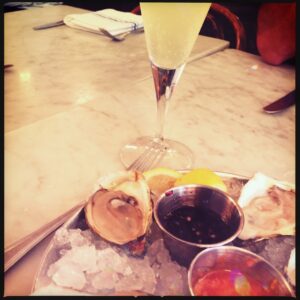 I do not want to be known as a restaurant review site but as I move into what I want Tripping Vittles to become it is inevitable that my likes and dislikes will come thru in my writing.  What I write is my experience I think everyone should go and form their own impression. You may agree with my impression or you may have a totally different experience the most important thing is you are getting out and trying something new. If its bad don't go back and if its good make it a place where everyone knows your name. That said let's get on with Crawling.
I live in a cute little town called Westerville in the state of Ohio. It has an uptown that is old it houses a small college and many restaurants along with antique shops and vintage retailers. A wonderful small town pharmacy and across the street a cute Flower shop. There is a fantastic bakery. https://trippingvittles.com/tripping-on-donuts/ I love where I live and yet I do not always get to enjoy it. That changed yesterday when a friend and I decided to do a Restaurant Crawl of Uptown Westerville.
I find it is best to set rules on a crawl especially when it involves the spirits mixed with sustenance.  So the rules.
Only one cocktail at each stop each
We only sit at the Bar
We order only one food item to share
We started at Asterisk. This is one of the most amazing looking  bars it is beautiful. I know there is a story behind it as when they opened a lot was made of the wood bar, but since the bartender was not talkative other than to tell us they used cheap Pisco in the drink she made( It tasted cheap to) I don't have the story behind the bar. I do know the staff apparently is sick with the funk and they make them attend bow tying class in the middle of the bar on a Sunday afternoon.  It is a quirky little place and an interesting start to our Crawl.
Off we go to our next stop. Koblé Greek Italian Grill.  Moscow Mule for my Crawl partner and I ordered a version of La Dolce Vita cocktail with Rum Chata that was very tasty until I squeezed the lemon garnish into it and it curdled like buttermilk. I should have known better but the pretty lemon was sitting on the rim begging to be used and I did not think about food chemistry 101. The food here was really great.  We had the trio of dips Hummas, Tzatziki and spicy feta with warm pita. Fantastic and great with cocktails.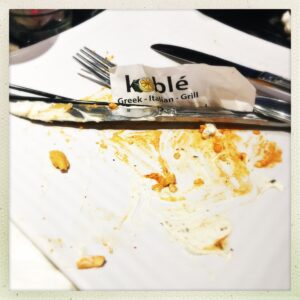 Crawl tip…Pita soaks up booze. I could eat here every week if they had wait staff but I hate the counter order go sit down thing. After a long week I would like to be  served. You can sit at the bar and get served cocktails and food but they have those beautiful open windows that look out on historic route 3 with great people watching.  Others must feel the same way there were about 30 of us sitting around the bar and not a soul in the rest of the restaurant.
Last stop on the Crawl 8 State Bistro. It's in the old theater and I thought it would be like going into an old movie theater. It is a little and not a lot  and at first that bugged me  but this place is growing on me. The drinks were solid and the menu is starting to pull the theme of an old theater together. I had the Mary Pickford Cocktail and it was wonderful. I love movies and I look forward to seeing where they can take this concept and what drinks and food they pull  from Hollywood and the screen. We broke one of our rules and got 2 appetizers the Mussels and the Pork Belly on Cheese Grits.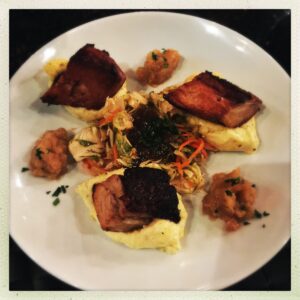 The Pork Belly was out of this world. Perfectly cooked and full of flavor. The bartender was super pleasant and shared the information about their happy hour with us. We had a nice conversation with him but he was not over bearing.
Over all we had a great Crawl and it was fun visiting a bunch of places in one day. I urge you no matter where you live to Crawl. You may discover a little gem you have never tried or be re-introduced to an old favorite.
The following Recipe has been rated 21 and older by Tripping Vittles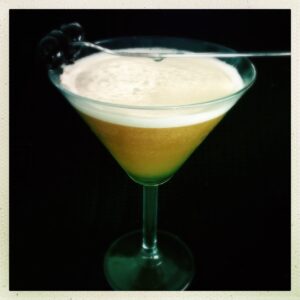 The Mary Pickford
Chill a martini glass. In a cocktail shaker combine
2.5oz Silver Rum
1/2 oz grenadine
1oz Marachino Cherry Liqueur
1/2oz Cherry Juice
3 oz pineapple juice
Shake for at least 30 seconds strain into chilled martini glass garnish with Luxardo Cherries.