Ever since I was a child I have been fascinated with  Peru, Inca's and the many lost or hidden cities. Stories of cities in the clouds Machu Picchu and lost cities of gold deep in the Amazon Jungle.  I developed  a fascination for far away lands in dark mysterious jungles who disappeared into thin air. It made Indiana Jones seem like a documentary. That at least was how my 10-year-old mind thought of these far away people and their civilizations.
I had a very active imagination as a child probably in part to the fact I read books like they were life blood. I consumed what was on the pages like it was nourishment and then played games, pretending I was someone or something from one of the pages. I have taken my plane on an around the world trip. I have skied the alps and found the Yeti. I searched the swamps for killer alligator and I have found Bigfoot and the Loch Ness monster. All before I reached puberty.
I look back now and those books in all likelihood gave me my thrill for adventure and my fearlessness when trying new things. They made me want to eat bugs which I have, To drink the drinks of the Amazon and find clarity which I have not, at least not yet.  I have dreams of going many a place in the future for Tripping Vittles. I want to share that with all of you but I am also just as excited when others travel and they share with me their adventures and discoveries thru stories and photos.  I am even more thrilled when they bring a little piece  of their trip back and share with me so I can experience bits of the world I have not yet traveled too.  The best part is that I can intern  share those bits with you.
My friends Jim and Andrea took their honeymoon in Peru. When I heard this was where they were going I was so excited. I have wanted to travel there since I was a kid. Machu Piccu was something I was fascinated about. I imagined myself living there on top of a mountain high enough to touch the heavens and in secret so no one would know what we were doing up there. In my childhood fantasies we were being visited by aliens. Yes silly I know but it seemed possible to my imaginative mind. Heck I am still not convinced as an adult that there are not a few aliens out there now… I want to Believe…that I know of Jim and Andrea did not find alien life forms but they did discover the National Drink of Peru…The Pisco Sour and they were kind enough to bring me back a bottle of Pisco and a story or two about learning how to make it and enjoying it.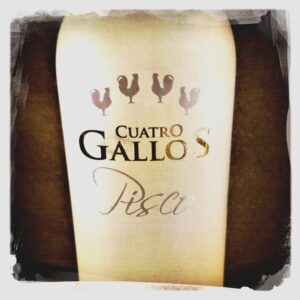 If you follow Tripping Vittles on Facebook you are aware that I am not completely unfamiliar with Pisco Sours. As I have stated I have had a bit of  obsession of Peru for most of my life and while my mom was visiting we watched Anthony Bourdain, No Reservations Peru and we decided to try making Pisco Sours. We succeeded and they were delicious
I did some research after the show and found that it is the national drink of both Peru and Chili. It is another one of those culinary fights on who makes it better and whose ingredients are best. So there is no narrowing this fight both use either lemons or limes, both drinks have simple syrup and Pisco and both are topped with bitters. Peru always uses an egg white and Chileans, only some of them use an egg white. In Chili they serve in a champagne flute type glass while Peru serves their's  in a short juice type glass. They both go down smooth and sweetly sour. If you are an Anthony Bourdain fan one of his all time favorite drinks are the Pisco Sours of Peru. He has gone so far as to say so on TV. I have not been to either country but because of my love for Peru and my deep wish to travel there along with the lovely gift I was given, a bottle of Peruvian Pisco I am going with Peru as my favorite Pisco Sour.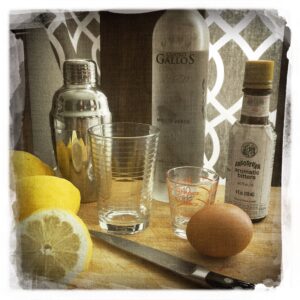 I have made it both with Lemon as pictured above and Lime juice.  Jim and Andrea had a class and they said Lemon was how they were taught. I have played with measurements and the following is Tripping Vittles best version of a Pisco Sour.
You should try the different brands out there, my personal favorite is the one Jim and Andrea brought back it is smoother and less medicinal than the other one I have had. It has notes of citrus and is just really fantastic it was @CuatroGallos or sometimes called 4G's.
Tripping Vittles Pisco Sour
The Pisco Sour is made in a cocktail shaker, requires a 2 stage shake. Trust me its worth it. Start by adding all ingredients into a shaker with no ice.
2 oz Pisco (this is available at any good liquor store)
1.25 oz simple syrup recipe
1.25oz Lime Juice ( if you want to try the lemon version add this amount of lemon juice)
1 egg white
Shake vigorously stop and add 4 large ice cubes or a small hand full if they are small cubes. Shake for a good min or until you cannot hold metal shaker any longer from the cold.
Strain into glass top with 3 drops of bitters.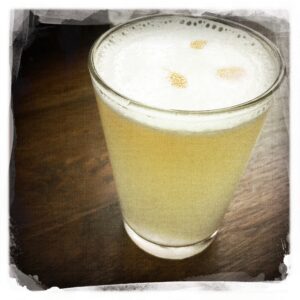 Enjoy but fair warning you will want to drink several of these and I am not responsible if you start to see aliens and you feel like you maybe living in an ancient city on top of a mountain and are communicating with the Gods.
#2016trippingvittles #piscocuatrogallos #Bestdrinkfromperupiscosour