The snow has started to fly and than quickly stopped in Ohio and after an extended fall it feels like winter is finally setting in and than spring is here. This has been a weird weather winter but it still seems like chili time to me. It is one of my favorite winter meals. Warm bowl of Chili with some corn bread. It warms you from head to toe.  For many years that was the only way I enjoyed chili but thru my travels and the different places I have lived I have come to love Chili in so many other forms.
Chili Cheese Fries at Ed Debevics in Chicago. One of my first jobs out of college where I learned so much and made lifetime friends also holds up as the Chili Cheese Fries measuring bar for all others. Sadly they have shuttered their doors but in my mind they are the best ,if I ever find better you ll will be the first to know.
When I moved to Ohio I had never even heard of  Cincinnati Chili but once here it was a whole new flavor profile and one I have come to love. The history of this chili is fascinating coming from Macedonian and Greek immigrant restaurant owners. Like many great food inventions there are a few that take claim to its origin and who used it first on top of hot dogs and spaghetti. Lets just say it all came about sometime in the 1920's. It is something akin to a medium dark mole in that it has a rich flavor profile and depending on the recipe may have chocolate added. Beyond that it is nothing like Mole. It is used as a topping for hot dogs or "coney's" and Spaghetti. The spaghetti is served always with the chili and that is "two-way". The "ways" as I have come to know them are all the different combinations you use to top your spaghetti. You begin with the"two-way" than you have "three-way" adding cheese than my personal favorite "four-way" adding onions to the chili and cheese. "four-way Bean" is subbing the onion for beans. and last the "Five-way" is all of the above topping the chili. The aforementioned Ed Debevics in Chicago had chili that they added macaroni noodles too along with all the "ways" toppings but I never really liked it as it always felt like a bowl of chili with way to much stuff in it. The Cincinnati way is much more balanced and feels like it all is meant to  go together instead of an afterthought of ingredients.
You can find "coney's" all over the United States. They all have their little twists. Indiana Grills theirs . Michigan has taken their "coney's"to a passionate level even having divided them into Detroit style, Flint style, Jackson Style all of these are listed on wikipedia but I am going to take my brother in laws word and say that the best Michigan "coney" comes from Senate Coney Island with several locations around the Detroit area. North Dakota has a place , as does Wisconsin  and you can't forget New York has Coney Island. Growing up in Minnesota I do not remember having it be part of my culinary world.  Corn dogs were much more a part of my lexicon, in the course of a single State Fair weekend I could eat 10 or 12 of them.. When I moved to Chicago I was so taken with a Chicago Dog that putting anything else other than tomato,sport peppers, onions, neon green relish, mustard and celery salt somehow seemed wrong to me.
When I moved to Ohio someone was kind enough early on to introduce me to Skyline Chili.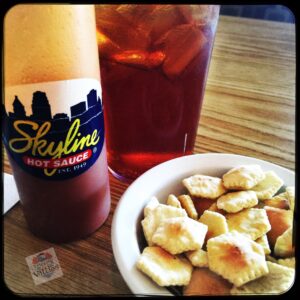 A chain of restaurants serving Cincinnati Chili. Now My favorite chili is one without beans so this was a perfect chili for me before I ever even put it in my mouth I was a fan. Than when it was time to eat it I was blown away. The flavors of cinnamon and clove and the way the beef is finely ground. I loved the difference in it compared to the chili I was used to with the chunks of tomato and bigger chewable beef pieces.
I know there are many places all over Ohio professing they are the best Cincinnati Chili. I have even read about a few and one day would love to take a trip down Cincinnati way and try them out. If you make it that way before I do be sure to share with me your thoughts. Here are a few people say are great. Camp Washington Chili has won The James Beard award as an American Regional Classic. Pleasant Ridge Chili has been doing their thing for over 50 years. Blue Jay Restaurant has been owned by the same folks since 1967 and I am told making some great Chili.
I think the thing I love most about the Cincinnati Chili is that it is rich with history and much like a Chicago Dog it is Done a certain way, you know what to expect just like you won't find ketchup on a Chicago Dog you will not find beans in Cincinnati Chili unless of course you order it 5-Ways.
I have found when I need a fix I head to skyline. I have eaten at several different ones and my new favorite is the one near Polaris Mall on Orion Place. It was the first one that did not feel like fast food the waitress explained to us about the history of skyline Its Greek origins. How to eat it by turning your plate the long way and using the end facing you as a scoop so you get all the ingredients of your pasta in the right amount and it makes cutting with your fork easier. This is not a restaurant review page but the waitress here was so nice and she explained that the Greek salad we were raving about was an original recipe just like the chili. I will say this it is the best Greek dressing I have ever had. Fantastic so be sure when getting your fix of Cincinnati chili don't miss the Greek Salad if you are at Skyline…Thats as close to an actual review you will get here at Tripping Vittles.
Now get out there and trip on some Cincinnati Chili and share your favorites with Tripping Vittles we love to hear about our readers favorites. #Cincinnatichili #trippingvittles