My goal was to discover the world of Bourbon through Travels on the Bourbon Trail. In my mind that meant I would get off of the highway somewhere around Lexington Kentucky and drive a line until I got to Louisville Kentucky where I would walk up and down Whiskey Row.
I imagined it was something akin to The Strip in Las Vegas or Bourbon Street in New Orléans. I was so completely wrong. Travels on the Bourbon Trail means to stop in little and  big towns all over central Kentucky. Versailles where Woodford Reserve sits in the middle of Thorough Bred Horse Country. side bar..I have seen a lot of horse farms but I have never seen anything like the farms where Kentucky Derby winners like American Pharaoh live…Loretto where the mega distillery of Makers Mark rests. The bourbon is awesome but you should taste a bottle of their water. Somewhere outside of Frankfort Kentucky we followed a sign down a dirt road and discovered Three Boys Farm & Distillery the home of Whiskey Thief Bourbon.
Travels on the Bourbon Trail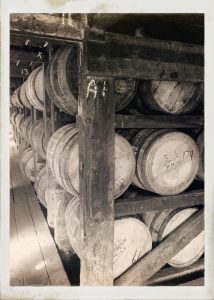 As I have shared more than once my love of  Bourbon Proof of Love. My preferred method to imbibe in this spirit is to make a cocktail. I have never been a sipper, that has changed as my Travels on the Bourbon Trail have shown me how to sip Bourbon properly. The three-step method should be engaged anytime you sip bourbon.
3 steps
Swirl and smell breathe the aroma in with your lips parted so you use both taste buds and nose to smell with.
Take a little sip to open the taste buds. this will burn a little(this is when most people decide they do not like bourbon. Don't stop here!
Now a bigger sip and swish it around or as the say "Kentucky Chew" it. You will start to get all the flavors from the Bourbon sweet, smokey ,caramel, floral.  You are ready to sip on the rest of that glass. you will be amazed by this time how smooth and wonderful it is.
Now you know the method to sipping a nice Bourbon you are ready to hit the Bourbon Trail.
Hitting the Trail
As I think you have figured out one of the things I want to do with Tripping Vittles is bridge cultures and show how we are more alike than different. My hope is to share things I find on these adventures and make them available to you my readers.  As  I write this there is so much I want to say about Kentucky and how awesome this trip was.  I did not find anything local or made in the area I could bring to you other than the experience. I would love to tell you I could sell you the Bourbon I tasted  but that is not possible because of rules and regulations.
All I can do with this post is share with you how wonderful the people in this part of Kentucky were. The people in Midway,  Bardstown, Shepardsville, Louisville and all points in-between. I cannot explain to you what a joy this trip was because of the hosts in Kentucky. The Kentuckians I met were proud of their state. The people of Kentucky were happy to share the knowledge they had about the product they are selling. From the limestone water to the bourbon in the barrels they were filled with pride. I found this beyond refreshing in a world where the sour seems to outweigh the sweet. Kentucky was all sweet!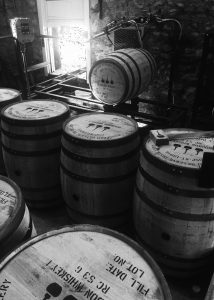 Lot's more to come
I thought I could encompass my trip into one post, that was a silly notion on my part. Whiskey Wednesdays alone I have enough Bourbon for a years worth of posts.  I want to make a Tripping Vittles Itinerary so you can make your own Travels on the Bourbon Trail.  Some lessons were learned about myself and how Tripping Vittles will shape into what I see in my mind's eye.  The biggest lesson learned was that I need to bring a cooler on each Tripping Vittles road trip.  I missed out on a lot of Chocolate Bourbon Balls.